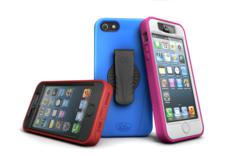 Toronto, ON (PRWEB) February 20, 2013
iSkin, a premium brand for fashion and technology lifestyle accessories for the mobile generation, announces its release of the highly-anticipated revo 360 and fuze 360 Edition cases for the iPhone 5. Both cases give iPhone 5 protection a stunning, tough, low-bulk design with great features & value at an affordable price.
Representing one of iSkin's longest running series of cases, the revo 360 is the most value-packed protector from iSkin to date. Designed mainly for those seeking non-bulky yet rugged protection for their beloved iPhone 5, the revo 360's sculpted design elegantly masks its highly-protective qualities. Using premium silicone, iSkin was able to create a form-fitting case that protects the iPhone 5's aluminum body against accidental drops, scratches and other hazards. In addition to its excellent shock absorption qualities, the silicone composition of the revo 360 resists moisture, dirt and features MicroBan® antimicrobial product protection that resists odor and stain-causing bacteria on the iPhone 5. The revo 360 includes a sleek, removable rotary belt clip that securely connects the iPhone 5 to its owner, that also doubles as a media stand for watching YouTube® videos in landscape mode. The clip can be fully removed and reattached when required.
The best feature of the new revo 360 is the price. Complete with the belt clip and high-impact screen protection, the new revo 360 retails at $39.99 USD making it an extremely high value option on the market for those looking for complete body and screen protection with functional utility and great design.
Designed and engineered to protect what's inside, the fuze 360 fuses a soft inner layer with a durable, impact-resistant outer hard shell for a degree of protection that has never been offered before with any other case. The main feature of the fuze 360 Edition is its ultimate shock and impact dual-layer protection. The fuze 360 has a metallic front-face accent finish composed of a soft inner core + durable hard shell. An anti-slip rubber-coated finish complements the sleek, bold and sexy design. The fuze 360 is both quick and easy to install.
For the very first time, iSkin is including the new ProTouch® TITAN High-Impact Screen Film (sold separately for $24.99 USD) with both the revo 360 and fuze 360 Editions. This new generation film strengthens the iPhone's Retina display screen well beyond its past generation models and allows a higher impact resistance against its surface. This multi-layered, precision-engineered screen shield is easy to apply and does not affect clarity or usability of the iPhone 5's screen. It is ultra-thin, ultra-clear and optimized for Retina display devices, and its installation is hassle-free and prevents air pockets.
Other notable design features for both the revo 360 and the fuze 360 Editions include: home, volume and power button coverage, integrated earphone and lightening port covers that protect against liquid, dirt and dust, and textured sides that provide an enhanced grip.
The revo 360 is available for $39.99 USD and the fuze 360 retails for $49.99 USD. Both Editions are available online at http://www.iSkin.com and at select retailers in the coming weeks.
Welcome to the new era of 'sleek' with a protective twist.
About iSkin Inc.
iSkin Inc. has been one of the world's most trusted mobile accessory brands since its first advanced protective solution for the iPod® in 2002. Known for its cool, innovative designs and fashion-forward style, iSkin continues to be the leading mobile accessory brand. iSkin continues to focus on delivering the highest quality, innovative design and fashion-forward style in accessories for Apple®, BlackBerry® and Samsung®.
The iSkin word mark and logo are registered trademarks of iSkin Inc., registered in Canada, the United States and other countries. All Rights Reserved 2006-2013. Apple®, iPhone® 5 and iPod® are trademarks of Apple Inc., registered in the U.S. and other countries. Other company and product names mentioned herein are registered trademarks of their respective companies.
Contact:
Press(at)iSkin(dot)com
http://www.twitter.com/iSkin
http://www.facebook.com/myiSkin