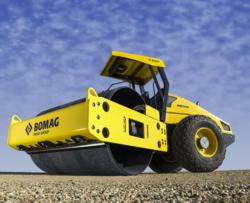 The new BOMAG BW211-50 Series consists of the BW211D-50 smooth drum roller and the BW211PD-50 padfoot roller.
Kewanee, Illinois (PRWEB) February 21, 2013
Featuring enhanced fuel economy and meeting Tier 4i regulations, BOMAG's new BW211-50 Series single-drum vibratory rollers are designed for efficient compaction of granular and cohesive soils, making them ideal for numerous site preparation and road construction applications.
The BW211-50 Series consists of the BW211D-50 smooth drum roller and the BW211PD-50 padfoot roller. Each model is powered by a Tier 4i compliant, 120-horsepower Deutz diesel engine that features ECOMODE, a system that aids the operator in conserving fuel.
Dual vibration frequencies and amplitudes ensure compaction performance is maximized on a variety of soil surfaces. Both rollers deliver frequencies of 1,800 and 1,980 vibrations per minute (vpm) across an 84-inch operating width. The BW211D-50 generates 53,100 pounds of centrifugal force in high amplitude and 32,141 pounds in low amplitude, while the BW211PD-50 provides respective centrifugal forces of 61,825 pounds and 37,434 pounds.
Maintenance on the BW211-50 Series is simplified by a polymer hood that opens vertically for quick access to the engine, hydraulics and all service points. Steering cylinder pins, travel bearings and a maintenance-free bolt-on articulation joint eliminate daily grease requirements, while the engine air intake is positioned high on the roller to increase filter life and reduce overall noise levels.
Controls on the BW211-50 Series are strategically placed for maximum operator comfort and jobsite safety. A vibration-isolated operator's platform enhances productivity, while clear sight lines provide excellent all-around visibility of the machine. Additionally, each roller features an ergonomically positioned integrated instrumentation cluster, including audible and/or visual indicators for oil pressure, engine coolant level, brake control, electrical charge control and hydraulic oil level.
A 12-degree oscillating angle and 35-degree steering angle provide optimum maneuverability on the jobsite, and operation is simple with a single lever control for travel and vibration modes. Heavy-duty 12-ply tires and a rear axle with no-spin differential contribute to excellent traction, even in difficult conditions. Maximum gradeability is 47-percent with and without vibration.
Options include compaction measurement and control systems, front and rear working lights, padfoot or smooth drum segment kits, front frame or diamond tread rear tire ballasts, ROPS cab with heating, air conditioning, swivel comfort seat, CD radio with auxiliary input, rotary beacon, and special paint. Speedometer, voltmeter, frequency and tachometer gauges are also available.
For more information on the BOMAG BW211-50 Series single-drum vibratory rollers or the complete BOMAG Heavy product line, including single-drum vibratory rollers, tandem vibratory rollers, steel-wheel rollers, pneumatic-tired rollers, recyclers/stabilizers and refuse compactors, contact BOMAG Americas, Inc., 2000 Kentville Road, Kewanee, IL 61443, call 309-853-3571, toll-free 800-782-6624, fax 309-852-0350, e-mail info.bomag(at)bomag(dot)com or visit the BOMAG website at http://www.bomag.com/us.