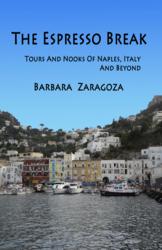 More than two hundred Catholic Churches exist in downtown Naples alone. Open to everyone, they provide quiet reprieve from the frenetic city traffic and display stunning works of art for free. But with so many Churches in the area, which ones are the most
Chula Vista, CA (PRWEB) February 21, 2013
Two organizations in Naples, Italy have teamed up and since January 26th are offering tours of churches, which normally are inaccessible due to funding issues, vandalism and restorations. Held every last Saturday of the month through December 2013, the aim is to provide knowledge to the public about the city's rich heritage in order to protect and conserve the art and architecture of these churches.
An excellent accompaniment to the curator presentations or as a substitute for those who can't make the meetings, the Naples travel guide, The Espresso Break: Tours and Nooks of Naples, Italy and Beyond provides a top ten list of the most important churches to see in Naples. With two hundred churches in downtown Naples alone, it can be hard to know which are most significant to visit. The travel guide addresses this concern, providing not only the significant 'must-see' churches, but the entire guide is peppered with church recommendations.
A Caravaggio painting can be found at Pio Monte della Misericordia and a wonder of the world, the Veiled Christ, is found at the Capella Sansevero. The remains of famed odious woman, Queen Joanna I can be found at the Santa Chiara Cloister and the Church of Santa Maria della Sanita has a ghoulish underground with skeletons pressed into the walls for decoration.
The travel guide takes you through nine self-guided tours that include Pompeii, the parallel underground city, a historical tour of Neapolitan caffe and more. Zaragoza also lists thirty insider sights that range from getting tickets for soccer games to visiting an internationally famous glove maker.
New York Magazine mentioned Zaragoza's blog, The Espresso Break, as the 'go to' website for finding hidden gems. Kirkus Reviews said, "In this readable, entertaining information guide for tourists, Zaragoza takes readers from the heights of Mount Vesuvius to the ruins of Pompeii and beyond. Part Atlas, part history lesson, part epicurean review, this comprehensive handbook to Naples is without peer."
"The best time to appreciate these church tours are during the Lent and Easter season," says Zaragoza. "And for the armchair traveler, Naples can really be considered "Church City"."
About
Barbara Zaragoza is a freelance writer who spent three years blogging about Naples, Italy. For more about the author, the book and Naples travel, go to Naples (Napoli) Travel Information Guide.