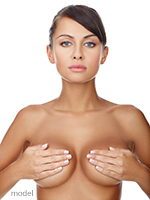 Los Angeles, California (PRWEB) February 20, 2013
Natural breast augmentation has arrived as a feasible option for women seeking breast augmentation but who are averse to the traditional method of surgical implantation. According to a recent ABC News report, this innovative technique entails the use of fat and stem cells from a woman's own body to reconstruct the shape and add volume to the breasts. (Go to: goo.gl/xjeC3)
"I'm always interested in non-surgical approaches like this," says Dr. Simon Ourian, Medical Director of Epione Beverly Hills. "However, I'm a strong proponent of evidence-based medicine and I'll reserve judgment until I can see the results of long-term studies."
Conventional breast augmentation entails the use of breast implants. The physician inserts silicone or saline implants underneath a patient's breast tissue. To perform the surgery, an incision is required either under the areola, in the armpit, or in the belly button. After that, the physician creates a pocket to place the implant directly beneath the tissue or under the muscle according to the patient's physique and preferences.
Nonsurgical breast augmentation uses fat cells transplanted from other parts of the patient's body such as the abdomen, hips, inner thighs, or buttocks to enhance her breast size. The physician harvests fat cells from the aforementioned body areas using liposuction.
After harvesting the fat cells, the physician injects them into the breast tissue. The fat cells contain active stem cells which are said to help develop blood supply to the breast and potentially form new breast tissue. This new tissue becomes an integral part of the breast rather than a foreign implant.
The process entails no surgical incisions or use of general anesthesia making it relatively safer than a surgical procedure. Additionally, the use of regenerative fat cells is reported to result in natural looking, smoother breasts. The procedure has a faster recovery time relative to traditional implant surgery.
"I'm sure many women would consider taking fat from their hips or buttocks an added benefit," says Dr. Ourian. "But only time will tell if natural breast augmentation will become as popular as implant surgery."
Dr. Ourian has been a pioneer in laser technology and non-invasive aesthetic procedures including Restylane, Juvéderm, Radiesse and Sculptra. These treatments are used for the correction or reversal of a variety of conditions such as acne, acne scars, skin discoloration, wrinkles, stretch marks, varicose veins, cellulite, and others. More information about natural breast augmentation can be found on their website.