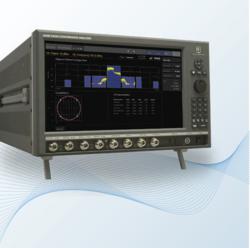 (PRWEB UK) 22 February 2013
Hermon Labs TI will show its newest LTE test products, including the first LTE "All-In-One" UE development and testing test platform. The new G9200 replaces over 20 test instruments providing a unique "Lab In a Box" solution that significantly reduces test time and cost.
The G9200 Radio Conformance Analyzer is an advanced "all-in-one" test solution for mobile LTE, and other radio technology equipment. It provides a single highly integrated benchtop instrument with multiple types of test equipment, including a Base Station Emulator (BSE) with up to three cells, Vector Signal Analyzer (VSA), Vector Signal Generator (VSG), Protocol Tester, Fading emulator, power meter, audio analyser, DC power supply and more. The G9200 is able to perform analysis of LTE mobile devices at all layers from the physical to the application layer, and is suitable for development, conformance, pre-conformance, and production test applications
The G9200 enables the user to run pre-defined tests, customize existing tests, or create new tests using a powerful "drag and drop" script. Tests can be executed conditionally and/or repeatedly in loops, as a function of parameter values and counters. The appearance of the tests and presentation of results is fully configurable. The G9200 allows the user to arrange test results such as graphs, tables, test parameter controls and set limits, as required.
Hermon Labs TI have been providing unique "lab-in-a-box" solutions for many test areas and now this includes the G9200 for LTE terminals. The new innovative LTE "lab-in-a-box" solution for developing and testing LTE terminals is considered the best way to combine a number of functions in a single easily driven product.
As well as the G9200, at Mobile World Congress Hermon Labs TI will also introduce the TCA4100 Telephony Conformance Analyzer, which is an acoustic and voice quality conformance tester for mobile, wireline and wireless phones.
About Hermon Labs
Hermon Laboratories is a world-leading expert in EMC, Radio, Telecom, Product Safety and Environmental testing. The company pioneered a new approach to telecom testing with its introduction in 2003 of the TCA 8200 Telecom Conformance Analyzer - the first worldwide telecom testing lab-in-a-box. Established in 1987, Hermon Labs is headquartered in Israel. For more information, please visit http://www.hermonlabs.com