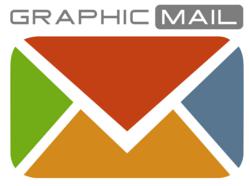 The flexibility of the reseller package makes it an attractive prospect.
Geneva, Switzerland (PRWEB) February 21, 2013
According to Hubspot.com, 78% of all internet users conduct their consumer research online. The skills of a reliable email service provider (ESP) allow businesses to tap into this vast market of online users.
GraphicMail enables others to resell its services as a second party and in doing so boost their own revenue; with tailored packages suited to individual business needs.
As digital marketing grows, so do the opportunities presented to those able to operate within this environment. Over 25% of GraphicMail's resellers are in the US alone. GraphicMail has been able to leverage this success by rolling out the reseller successfully in other international markets.
Said Anne-Catherine Schaub-Jones, GraphicMail France: "The flexibility of the reseller package makes it an attractive prospect in France; this is boosted by low risk payment options that protect resellers, giving them peace of mind."
Three benefits of reselling the services of an ESP
New and Increased revenue
If the boom in digital marketing is anything to go by, then reselling the services of an ESP can prove to be of great financial benefit. More and more businesses are looking to email marketing in order to expand their customer base, while keeping budgets under control.
77% of the US population is using the internet as of 2010 and the numbers continue to rise as 90% of US internet users between the ages of 18 and 72 say they send and receive mail constantly, according to Microsecommerce.com. This makes the role of an ESP or affiliate ever more vital in terms of economic gain. GraphicMail offers a competitive pricing structure designed to benefit both parties.
Integrated design with functional application protocol interface (API)
Being able to replicate branding and design onto an already functional and effectively constructed framework frees up time to focus on what's most important to the individual, getting down to business. This gives entrepreneurs a head start in the fast paced mobile end email marketing world. Digital brands move at incredible speeds and are able to adapt to global trend-changes relatively quickly; so integrating with GraphicMail's well put together API and having full access to its functionality is essential.
Tracking tools to quantify ROI
Reselling the services of an ESP is all well and good, but if a reseller isn't able to quantify their return on investment (ROI) there really is no point in such an undertaking in the first place. The services offered by email service providers like GraphicMail, who offer a reseller package, also include tools to help track progress in the form of: delivery reports, open rates, email bounce rates and overall metrics.
Taking advantage of the progress made within the digital marketing environment is essential in order to leverage skills and services to the increasing number of people interacting on this medium. 91% of email users have unsubscribed from a company email they previously opted in to, according to Hubspot. This is usually due to bad sender reputation, missing feedback logs and a lack of proper mailing list logs. GraphicMail's expertise ensures that marketing material hits home and finds an active, interested audience; reselling their service can be a rewarding business decision.
Said Nadja Lasker, GraphicMail Germany: "The GraphicMail reseller package is perfect for businesses that want to add email marketing to their portfolio, but don't have their own resources to do so. GraphicMail offers email marketing software, which can be easily implemented and rebranded. The client doesn't have to worry about anything and can start to boost their revenue through email marketing right away."