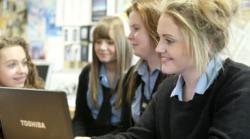 "I asked the computer science teachers in the region what they believed to be the best STEM tool available today to teach students how to program, and they selected LiveCode." Ian Sorensen, ICT Development Officer North Lanarkshire
Edinburgh, Scotland (PRWEB UK) 20 February 2013
RunRev today announced that North Lanarkshire Council has selected LiveCode for teaching computer science across all 24 high schools in the region. Scotland's new Curriculum for Excellence requires students to be able to design and use software tools and LiveCode was selected to meet this requirement. Deployment will take place in early 2013 and will result in more than 25% of all high schools in Scotland adopting LiveCode for computer science education. This initiative supports a drive by North Lanarkshire education authority to transform the way computer science in the Science, Technology, Engineering and Mathematics (STEM) curriculum is taught in high schools by ensuring students gain a practical insight into computer studies.
Ian Sorensen, ICT Development Officer at North Lanarkshire, said, "The familiarity and comfort factor that young people have with mobile and computing devices means that any STEM computer science course has to be appealing and engaging if it is to be taught successfully. Equally, the course has to be relevant to the demands and expectations of the commercial world and the new Curriculum for Excellence. Today software and app development are increasingly a feature in many commercial activities and understanding the art of software development is an essential skill for any high school student to learn. I asked the computer science teachers in the region what they believed to be the best STEM tool available today to teach students how to program, and they selected LiveCode. We are aware of the success many teachers and students have achieved with LiveCode and we are keen to ensure that our students are able to get fully engaged in learning the important skill of programming'."
Kevin Miller, CEO of RunRev said "At a time when the uptake of computer science in the western world is in decline it is refreshing to see Scotland leading the way to reverse this alarming trend. Schools using LiveCode have reported a doubling of uptake in STEM Computer Science. LiveCode is ideally suited for learning and teaching computer programming and logical thinking, as well as creating and distributing apps, games and utilities."
About RunRev Ltd.
RunRev makes the LiveCode cross-platform development environment for building sophisticated mobile, cloud, desktop and server applications. The company aims to open doors with technology by empowering people to create apps through an intuitive and easy-to-learn programming language. The LiveCode natural language and graphical interface delivers instant results which solve real world needs and appeals to a wide range of users including hobbyists, educators, public and private sector organizations. Considered a modern descendent of HyperCard, LiveCode offers a robust yet flexible path to cross-platform app creation. For more information, please visit http://www.runrev.com.