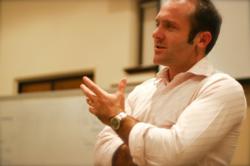 Pornography drives low self-esteem.
(PRWEB) February 22, 2013
Education expert Jonathan Doyle argues in a new online post that pornography has a powerful relationship with low self-esteem.
Doyle, who has delivered live seminars to over a quarter of a million people is the founder of a new website called Stopusingpornography.com which provides paid online programs and free articles on porn addiction and how to get help for porn addiction.
He states, "In all the years I have delivered live seminars on the topic of porn addiction I have never had someone come up to me and tell me how wonderful pornography has been for them and how much it has helped their relationships. What we do find is a trail of personal pain and damaged capacity for genuine intimacy."
Doyle believes that pornography has a circular relationship with low self-esteem. He argues that low self-esteem is often a driving force leading to porn addiction but that low self-esteem also increases with heavy use. He comments, "What we often find is that a porn addict is often dealing with deep wounds of rejection and often childhood pain or trauma. This lowered level of self-esteem often leads a person into exploring pornography as a source of release. The high levels of dopamine secreted in the brain can provide short terms positive feelings which remove feelings of low self-esteem, even if only briefly. However, soon enough the feelings return and are often stronger as the porn addict feels worse due to concern about the content they have accessed or fears of being discovered."
The website has been accessed by an international audience and Doyle hope is to provide all those struggling with porn addiction with a central website for information and support. He is a keynote speaker at the upcoming World Congress of Families where he will be addressing medical professionals and family specialists on the way porn addiction is impacting an increasing number of people. He states, "People need to know that they can get help for porn addiction. There is so much they can learn and simple strategies to create a gradual process of change."