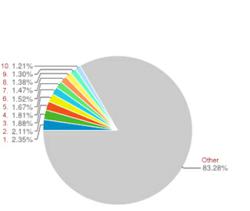 Voucher code usage is still on the rise and these figures are an interesting insight into where people are using them the most.
UK (PRWEB UK) 22 February 2013
One of the leading voucher code websites in the UK has revealed the top ten cities where people are searching for the most discount codes to make savings online.
The figures, which were recently released by LoveMyVouchers.co.uk, show that during the last twelve months, Leeds came top in the list of places using the highest number of vouchers, with London coming in a surprising fourth place on the list.
Online promotional codes have become increasingly popular recently and with Sheffield, Manchester and Newcastle also ranking high on the list, it seems that northerners are definitely making the most of the discounts that retailers are offering.
Website owner, Andrew Firth, said, "The recession has affected just about everybody and with high street stores shutting down at an alarming rate, it seems that more and more people are turning to the Internet to do most of their shopping. We have definitely seen an increase in the number of searches we get for voucher codes nationwide and that is particularly the case in the north."
The Office For National Statistics recently reported that the average weekly online spend was 8.7% up this January when compared to 2012, and the growth of voucher code usage is highly likely to be connected to this.
Firth continued, "It's a good idea to get into the habit of taking a couple of minutes to search for a code before you pay for your items because there are a huge range of stores offering them right now."
Other cities seemingly keen to grab regular bargains include Bradford, Birmingham and Glasgow, but as more and more people catch on, the trend in the whole country is definitely on the rise.
The Full Top Ten.
1. Leeds
2. Sheffield
3. Manchester
4. London
5. Bradford
6. Birmingham
7. Glasgow
8. Newcastle
9. Edinburgh
10. Bristol
Notes
◦This data was compiled using analytics data from February 2012 to February 2013.
◦These figures were calculated using the number of searches for 'voucher codes' and other related terms that came from search engines and resulted in traffic to the website.