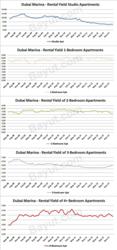 Dubai Marina apartment prices will maintain an upward trend in 2013
Dubai Marina, Dubai (PRWEB) February 23, 2013
Dubai Marina has virtually been one of the first developments to come out of the worst economic crunch. Being a top-notch community in Dubai, everything about Dubai Marina is best designed to meet the accommodation needs of the rich. The high demand of apartments for sale and rent in Dubai Marina has helped it a great deal in shaking off the effects of recession soon enough and being one of the first communities of Dubai to come out of the global economic meltdown. The state of the art amenities offered by several towers within the development make Dubai Marina apartments for sale and rent a magnet for investors.
Such high demand and the increasing prices of units within this locality are depicted in its performance on Bayut.com as well, where it is the best performing area in Dubai. Apartments for sale in Dubai Marina command the kind of attention from investors that is unprecedented for any other development in the whole of the UAE. Dubai is home to a host of top-notch developments but Dubai Marina apartments receive more attention from investors at Bayut.com as compared to apartments in other communities.
As per the stats of Bayut.com, the year began on a good note for apartments for sale in Dubai Marina when they attracted 14.42% of the total number of investors and buyers browsing apartments for sale in Dubai. This percentage steadily climbed the charts during the rest of the year and crossed the threshold of fifteen percent in March 2012 when it touched 15.58%. This was a pretty impressive figure for Dubai Marina apartments as the increase of one percent represents thousands of more prospective buyers. The development hit its personal best in September 2012 when it claimed 17.17% of the total number of investors interested in buying Dubai Marina apartments.
The prices of apartments in Dubai Marina have also steadily climbed in 2012. Although the prices of apartments in Dubai Marina are steadily recovering, and some of them have even crossed their pre-crisis highs of 2008. The average price of a studio apartment which was AED 1,000,651 in May 2008, fell to AED 511,613 in July 2010. From this point onwards, this figure climbed and reached AED 1,055,793 in January 2013. Data recorded by Bayut.com shows that the average price of 1-bedroom apartments for sale in May 2008, before the crisis struck, was hovering around AED 1,724,138. Within 8 months, this price had dropped down to AED 1,521,898 in December 2009.
There was a downhill journey from that point onwards when steep drops were noticed. This went on until December 2010 when prices started going up. The average price of 1-bedroom apartment went up from AED 972,903 in November 2010 to AED 1,016,977 in December and from there onwards, the rates have been steadily climbing. Over the course of last one year, the average price of 1-bedroom apartment has inched up from AED 1,002,012 in January 2012 to AED 1,275,946 in January 2013. Putting it in perspective, although it is only a percentage increase of 21.47% between January 2012 and January 2013 but given the fact that it is still a time when the prices have continued to fall in some areas in Dubai, this is a remarkable increase.
The same phenomenon was repeated in 2-bedroom apartments where the average price of 2-bedroom apartments for sale in Dubai Maria fell from AED 3,051,285 in May 2008 to their lowest of AED 1,593,324 on Bayut.com in March 2011. 2012 however was much better when the average price of 2-bedroom apartment was AED 1,781,474 in January 2012 and it crossed the 2 million mark in January 2013 when it increased to AED 2,140,841. There were similar kind of ups and downs in the average price of 3-bedroom apartments but nothing beats the rise witnessed by 4+ bedroom apartments that were up for grabs in Dubai Marina.
4+ bedroom apartments for sale in Dubai Marina are a mark above the rest in more than just one way. This is also reflected in their price where you have to own a fortune to be able to buy such luxurious property. These top-of-the-class units attract wealthy expat and locals for whom quality trumps the price. The limited supply of these units is also balanced by high prices, making them much sought-after despite the towering prices which are continuously on the rise. Because of their high value and limited supply, 4+bedroom apartments are valued commodities and have steadily recorded price hikes.
The average price of 4+bedroom apartments was struck by recession when it dropped from AED 7,610,815 in May 2008 to AED 5,023,058 in June 2010. Fortunately, this steep fall announced the end of the worst period and from this point onwards the prices began recovering. In January 2012, the average price of 4+bedroom apartments was AED 6,307,738 which is currently hovering around AED 8,284,822 in January 2013 with a percentage increase of 23.9%. All of this indicates an upward trend.
The same trend prevailed in the performance of Dubai Marina apartments for rent. Apartments for rent in Dubai Marina are just as popular as its apartments for sale which is why they secure a healthy percentage of total number of prospective renters browsing Dubai Marina apartments for rent. This percentage has been steady throughout 2012 and climbed during the second and third quarter 2012. When the year began, 10.64% of total visitors browsing apartments for rent in Dubai were interested in specifically those apartments which were available on rent in Dubai Marina.
This percentage kept increasing towards the end of second and third quarter. In September 2012, Dubai Marina rental apartments recorded their personal best performance with 14.54% visitors. Towards the end of the year however, this percentage was only a fraction more than what it was when the year began i.e. 10.65%. This phenomenon could be related to the fact that the activity is generally slow towards the end of the year in general. The same can be said about the rents of apartments in Dubai Marina which have been rising too - slowly but surely.
At the start of the economic crisis, the average annual rent of a studio apartment was AED 93,397 in May 2008 which fell to AED 56,000 by September 2009. After this point, it began recovering and as per the latest stats, the figure is hovering around AED 71,333 in January 2013. Falling rent and prices have exerted a downward pressure on the rental yield of studio bedroom apartments which was 9.33% in May 2008 and has been dropping ever since. As of January 2013, the average rental yield of studio apartments was 6.76%.
In the same way, the average rent of a 1-bedroom apartment for rent in Dubai Marina was AED 124,429 in May 2008 when the crisis struck. A year later, it had fallen to AED 85,350 in May 2009. Later in 2010, rents first became stable and then began their upward journey. For 1-bedroom rental apartments in Dubai Marina, the hike has been slow and steady in 2012, where it began the year with an average annual rent of AED 77,970 in January which increased to AED 90,427 towards the end of the year in December 2012. In terms of rental yield, 1-bedroom apartments maintained their pre-crisis highs where in May 2008 the average rental yield was recorded at 7.22% whereas in January 2013, this figure was around 7.17% which is pretty much the same.
The same could be said about the average rent of 2-bedroom apartments in Dubai Marina which was AED 205,833 in May 2008 as it constantly dropped over the course of the next two years hitting an low of AED 109,158 in September 2011. It began recovering soon afterwards. As per the latest figures, the average rent of 2-bedroom apartments in Dubai Marina is AED 138,960 in January 2013 which shows that it still has a long way to go if it wants to get anywhere near the pre-crisis figures. However, 2-bedroom apartments maintained a good rental yield throughout the last five years. In May 2008, it recorded an average of 6.75% which, according to the latest figures, was 6.49% in January 2013.
For 3-bedroom apartments, the situation was no different. In May 2008, the average rent of a 3-bedroom apartment in Dubai Marina was AED 260,000 which fell to AED 143,283 in August 2010. After August 2010, the rents of 3-bedroom apartments began increasing and as of January 2013, their average rent was AED 208,753 which is pretty good. The rental yield of 3-bedroom apartments is making a comeback after falling well below the six percent mark in 2012. As of January 2013, it recorded an exact 6% rental yield which is pretty decent.
The stats of average rent of 4+ bedroom apartments in Dubai tell a completely different story. Instead of falling, they have consistently crept up the charts. The average rent which was hovering around at AED 225,000 in May 2008, is now well over the three hundred thousand mark as per the latest stats of January 2013 with AED 317,736. Putting the spiking rents in perspective with the falling prices, one can imagine how this could be affecting the rental yield of 4+bedroom apartments. From 2.96% in 2008, it is now touching the four percent mark at 3.84% in January 2013.
"The robust performance of Dubai Marina apartments goes to say volumes about the popularity of these units," said Imran Ali Khan, CEO Bayut.com. "The stats are a reflection on the needs of modern investors of Dubai who are after high-end properties with a full range of amenities," he added, "and Dubai Marina offers it all." Khan believes the uniform recovery of all units in Dubai Marina has helped it set standards for all other developments in Dubai.
Stabilising prices and promising rental yields spell out exactly why investors are homing in on Dubai Marina apartments for rent and sale. In the light of the above mentioned findings, it can be said that Dubai Marina apartment prices will maintain an upward trend in 2013.
About Bayut – Bayut.com is the leading Dubai real estate portal operating in the UAE. To its credit, the site has a plethora of services and features it offers to its members which set it apart from the other UAE real estate portals. During the last few years, Bayut.com has grown to be much more than a platform for connecting buyers and sellers. The site now offers a community forum, giving its members direct access to the market experts.