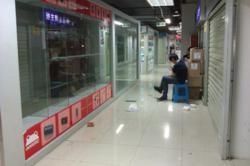 (PRWEB) February 21, 2013
On Feb. 21, 2013, Ankaka, a marketing research institute in China, released the latest China's Electronics Market Report. The report stated that: "Huaqiang North, the world's biggest electronics market in China and Asia is experiencing changes of great magnitude. Many wholesalers and manufacturers have closed their doors or steadily left Huaqiang North following dismal profits." The report also points out some crucial alterations on the market of Huaqiang North today.
Huaqiang North, the world's biggest electronics market in China and Asia, is experiencing changes of great magnitude. Huaqiang North Road, or Huagiangbei, is one of the major business areas in Shenzhen. In Huagiangbei, there are plenty of shopping malls, wholesalers, and electronics retailers. It is situated 1 kilometer from south to north, and 1.5 kilometers from west to east. The amount of people that traveled through there each day was 0.5 million. With more than 10,000 retailers, and over 20 shopping malls, Huaqiang North was a bustling retail amalgamation.
Huaqiang North Street Empty Shop Tide
As of late, many wholesalers and manufacturers have closed their doors or steadily left Huaqiang North following dismal profits. In a few markets, the vacancy rate of stores is as much as 40% although there was no renting fee. The substantial vacancy rate is cause for concern and will almost certainly persist for some time. The scant shops, with many stores displaying sublet signs, total over 3500. The vacant shops are chiefly in mobile-phone and accessories based stores.
Rumor has it that the economy of Huaqiang North could just disappear due to the situation. As a matter of fact, it is the market of bogus knockoffs that are the most in decline, which in turn hurts the trade tremendously. Previously, factories were assertively increasing production in counterfeit no-brand tablets and phones due to their huge demand. They flourished in the market for a while; nevertheless, these types of items are no longer in big demand, especially during the last few years.
It seemed inevitable. The speedy growth of bogus phones saturating the market leading to unwanted price competition together with inferior quality and high repair rate, would undoubtedly put a dent in the counterfeit goods market. The cost of tablets and name brand phones have reduced greatly, which makes the counterfeit brands lose their appeal.
Name brands increasingly won approval for authoritative protection of intellectual-property rights overseas; therefore, the demand for replica items have dropped due to the fear of provoking a lawsuit. This makes it difficult for knockoffs to openly appear on the market.
There are Three Crucial Alterations on the Market Today
-There is a record increase in brand stores and retail shops, drawing a large amount of customers. Many sizeable and name brand stores triumphed with entering and positioning themselves in important shopping markets like Huaqiang North. Their goal is to provide smart phones and tablets with better pricing and high quality. To put it bluntly, reasonably priced, superior quality smart phones make it difficult for fake mobile phones to endure.
-Unique and creative products are now drawing more attention on the markets. Wholesalers selling cool devices are becoming the big players currently on the market. Innovative electronics such as "stylish and handy luggage travel trolley scooters" and "USB solar-panel power battery charger tree including ten connectors" from Ankaka are winning the wallets of both western and Chinese customers.
-A large sector of manufacturers and market-sellers have altered their business to phone and tablet accessories like accessories for iPods and iPhones.
Undoubtedly, under the depression of the global market, the opening up of China's electronics market will present great opportunities for multinational corporations and local companies. How to gain a firm foothold in this market with huge potentials? It will be exciting to see.