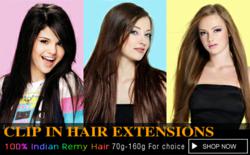 (PRWEB) February 21, 2013
Today, CCHairExtensions.com, a professional supplier of hair extensions, announces its newest arrival, clip in hair extensions, and launches a hair extension promotion, from Feb. 20 to Mar. 20 2013, to satisfy the increasing demand for affordable and healthy hair extensions.
The clip in hair extensions (also called "clip on hair extensions") from CCHairExtensions.com are available in 18 colors, varying from 15-inch to 28-inch, and 70g to 160g in weight. They are made with I00% Indian Remy hair to meet different requirements. Thanks to the quality materials and fine workmanship, the hair extensions look more natural than other products, and can be worn or taken off conveniently.
"It is super easy to wear these new hair extensions. Simply lift your hair, put the clip in place and snap it shut. Long fantastic hair is achieved in seconds. They are super soft to the touch and tangle free," says, Tony Austin, CEO of CCHairExtensions.com. "You can wash them, dry them, blow them, curl them, straighten them, and dye them. Just about anything you can do to your natural hair."
Furthermore, CCHairExtensions.com has launched a hair extension promotion to show appreciation to its loyal customers. All online visitors for the hair extension products can get a discount, up to 34% off, before Mar. 20 2013.
Tony Austin continued, "At CCHairExtensions, customer information is strictly confidential and will not be given to a 3rd party. In addition, each hair extension goes through a strict inspection process before shipment. If you have any question, simply contact us and the necessary steps will be taken to make it right for you."
About CCHairExtensions.com
Founded in 2008, CCHairExtensions.com is dedicated to bringing customers all kinds of fashion and quality hair extensions at affordable prices. Their hair extensions (like clip in hair, micro ring/loop hair, tape hair, hair weave, and so on) are all 100% human hair without aciding. CCHairExtensions.com has developed as one of the top hair resource wholesalers and retailers in the past few years.