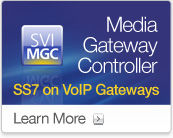 United Kingdom (PRWEB UK) 24 February 2013
The Cisco End-Of-Life Announcements have sparked increased opportunities for companies continuing to operate in the TDM-VoIP convergent marketplace. With the TDM industry retaining market share alongside the VoIP industry, infrastructure providers in the TDM space are benefiting from Cisco's withdrawal. Telecom operators and system integrators alike appear to be searching for solutions which will allow for the reusing of existing infrastructure, in order to continue to benefit from their previous capital expenditure.
One such company is Squire Technologies, who are continuing to report strong demand for their Media Gateway Controller (SVI-MGC),Signalling Transfer Point (SVI-STP) and Signalling Gateway (SVI-SG) as a result of the two Cisco announcements.
The End-of-Life Announcement for Cisco's ITP has seen Squire receive increased demand for their Signalling Gateway product in particular, as their Product Manager, Joe Williamson explains, "The Cisco ITP had dual uses, but the majority of people we speak to have deployed it as a Signalling Gateway. Our SVI-SG provides a seamless replacement for the ITP, allowing companies to save potentially large capital expenditure for replacements or upgrades of core network elements such as of Mobile Switching Centres, Intelligent Network Solutions, or Call Centre solutions which changing this type of network equipment can often mean."
Cisco have also announced the EoL for their PGW range of softswitches and software, which saw Squire experience increased demand for their Media Gateway Controller, as Matt Watts, Squire's Marketing Manager, explains "Companies using the PGW are often concerned that they would have to replace more than just the Cisco PGW they are using. Compatibility was a central issue during the SVI-MGC's product development, which is why our solution offers for interoperability with Cisco Media Gateways, meaning that it can be a direct replacement for the PGW with the rest of a company's infrastructure remaining in place. Cost savings are clearly a factor in taking this approach which is why we've found most success offering the SVI-MGC as a software solution, as this also reduces potential hardware costs."