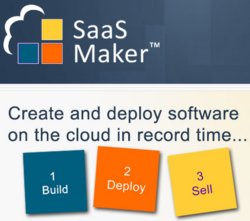 With the emergence of this new type of hybrid business/IT user, we have entered into a new era of software development.
Reston, VA (PRWEB) February 21, 2013
Most software programs target either business users or IT users, but today, Virtual Global announced that its target market for its groundbreaking platform-as-a-service would focus on an entirely new category: The "Saasmaker." Everybody knows that IT and business people have not always gotten along. The IT department often does not consider real-world business needs; while the business side of the enterprise will often make demands of IT that are completely unattainable. "Today, the barrier between software developers and business is diminishing," said Cary Landis, CEO of Virtual Global.
"We're seeing the emergence of an entirely new type of user," added Landis. "With the introduction of the platform-as-a-service model, we have more business-savvy tech people, who are able to create apps based on business realities and real-world rules derived from business end-users. At the same time, we're seeing tech-savvy businesspeople, who are better equipped to strategically employ as-a-service tools to create their own prototypes, proofs of concept, and fully functioning business applications, all without the intervention of the IT department."
Landis has appropriately termed his software SaaS Maker™, reflecting both the ability to create, deploy, and market software-as-a-service apps; and the new category of tech-savvy business users and business-savvy tech users that will employ the platform. "Our platform allows saasmakers on both the business side and on the tech side to see the entire enterprise holistically," said Landis. "IT projects do not have to be completed in isolation, with a Rube Goldberg approach to solving business problems. By breaking down the IT development silo, we're able to give developers more insight into what the business actually needs—and also allow business users to have a direct hand in developing the tools they will actually use."
Landis says that with the emergence of this new type of hybrid business/IT user, we have entered into a new era of software development. "With the traditional barrier between IT and business now erased, small and large businesses everywhere will get a little more user-friendly, and a lot more business will get done without confused end users having to constantly call tech support."
SaaS Maker™, Virtual Global's platform-as-a-service, perfectly suits this new emerging mix of IT and business professional, also known as the saasmaker. Operating purely in the cloud, SaaS Maker offers an end-to-end approach that goes from concept to deployment, allowing for users on both sides of the aisle to create, develop, deploy, and market sophisticated and full-featured apps. "Not only does this platform allow for a new type of end user," added Landis, "It is creating a whole new business model based on extended usability, deeper understanding, and complete integration of the IT function out of the cold back room and into every part of the enterprise."
About Virtual Global:
Virtual Global, a West Virginia corporation with a Northern VA presence, is a provider of cloud-enabled enterprise IT solutions, including the Saas Maker™ cloud platform for building SaaS applications without programming; TeamLeader™, a real-time team management system; and Cloudipedia, a website that brings cloud computing information to entrepreneurs. Since 1995, Virtual Global's technologies have served commercial and federal customers worldwide with enterprise-class IT needs.