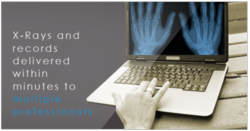 Portable X-ray providers work with patients in their residential care facilities. That reduces patients' exposure in hospitals where the CDC reports more than half of the people hospitalized for the flu are over 65.

Ken Kern - MediMatrix VP
(PRWEB) February 23, 2013
The U.S. Centers for Disease Control (CDC) calls this the worst flu season ever for seniors over the age of 65. Their fatality rate keeps rising and has already hit a record level, but the experts predict the worst is yet to come. MediMatrix and its network of portable X-ray services and ultrasound providers are doing all they can to help stop further spread of this killer bug.
Like the CDC, they have statistics that show just how serious the situation is for the elderly and vulnerable adults in long-term care facilities. "Our providers typically see a 10% increase in exams from January to March. This year they're already seeing a 30% jump, much of that being attributed to the spread of the flu," said Ken Kern, vice president of MediMatrix.
According to Kern, doctors aren't willing to take chances with the health of their nursing home patients because many already have compromised immune systems. They're ordering chest X-rays for their elderly and more vulnerable patients experiencing any flu-like symptoms like coughing, wheezing or shortness of breath. The mobile radiology provider services supplied by MediMatrix allow physicians to view their patients' DICOM images within minutes to catch any early signs of pneumonia and begin immediate treatment.
Portable X-ray and ultrasound providers work with patients in their residential care facilities or private homes. That reduces patients' exposure in hospitals where the CDC reports more than half of the people hospitalized for the flu are over 65. And the CDC says the fatality rate among that group has set a new record – going from 90 to 116 per 100,000 seniors. To further limit exposure, nursing homes and hospitals in some states are cancelling visiting hours or posting signs warning visitors "Enter at your own risk."
To learn more about MediMatrix and support for portable X-ray services and ultrasound providers, call Ken Kern at 888-346-3030 or visit Medimatrix.