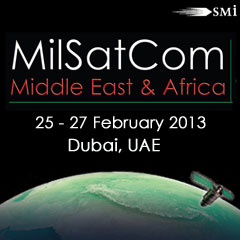 London, UK (PRWEB UK) 20 February 2013
There is less than one week left until what is expected to be the largest gathering of high level government, military and industry SATCOM experts from within the Middle East & Africa region.
SatCom experts are confirmed to attend from across the globe, including countries such as USA, Qatar, Nigeria, Libya, UK, Pakistan, UAE, Sweden, Saudi Arabia, Switzerland, France, Egypt, Germany, Serbia, Oman, Venezuela and Kuwait.
From the organisers of Global MilSatCom - the world's leading military satellite communications conference & exhibition, MilSatCom Middle East & Africa 2013 will tackle the latest security and communications challenges faced by one of the world's most forward-moving markets. The event will feature a leading keynote address from Qatar Armed Forces, deliver over 16 presentations and will provide attendees with a number of networking opportunities
Attendees will have the chance to meet key industry experts during the conference and also at the evening networking reception being held at At.Mosphere Restaurant at the top of Burj Khalifa, sponsored by Astrium and Thuraya.
In addition there will be a site visit on the 27th February to Sharjah Primary Gateway and Thuraya HQ.
Delegates now registered to attend include some of the world's leading satellite providers and industry experts including: AGI, Astrium, Comtech EF Data, utelsat, GHQ of UAE Armed Forces, Government of Serbia, Harris Caprock, Hughes, iDirect, Inmarsat, Intelsat General, International Police Association Pakistan, Khalifa University, Lockheed Martin, LSE Space Dubai, National Authority for Remote Sensing and Space Sciences Egypt, Nigeria MoD, Nigerian Air Force, Northern Sky Research, Rockwell Collins, Royal Navy of Oman, SES, Space Systems / Loral, SpaceX, Thales Alenia Space, Thuraya, UAE Centre of Excellence and Development (CoE), UAE Telecommunications Regulatory Authority, UK MoD, US Embassy, YahSat, UAE Air Force & Air Defense - Space Reconnaissance Center plus many more.
Places are now limited so companies wishing to attend can visit http://www.milsatcom-mea.com to register or contact the MilSatCom ME&A team on: +44 (0) 207 827 6054 or email jhitchen(at)smi-online(dot)co(dot)uk
---------ENDS-------
About SMi Group
The SMi Group is a highly professional, independent and global event-production company that specializes in Business-to-Business Conferences, Workshops and Masterclasses, and online Communities. The SMi Group creates and delivers events in the Defence, Security, Energy, Utilities, Finance and Pharmaceutical industries. For more information, please visit http://www.smi-online.co.uk