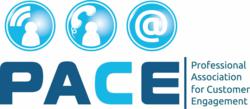 Indianapolis, IN (PRWEB) February 21, 2013
The Professional Association for Customer Engagement's (PACE) 2013 Annual Convention and Expo themed, "Driving Solutions for Today's Customer Interactions" will provide specific steps to customer engagement professionals across the US and from around the world to better focus on meeting the new demands of their customers. The Convention will be held March 10th – 13th at the magnificent Westin Keirland Resort in Scottsdale, AZ.
"With the ever-growing volume of customer interactions and transactions, and proliferation of communication channels, companies have more contact with customers than ever before. It can be difficult to leverage the opportunities and mitigate the risks inherent in these contacts," stated PACE CEO, Phil Grudzinski. "To thrive in today's customer empowered environment, brands need to deliver the best customer experiences when, where and how customers want it. This year's Convention is designed to provide business value by focusing on solutions that drive business."
TV personality, Michael Burger will kick-off the Convention on Monday morning. Michael is probably best known for invading your home - via your television. Michael was the host of the syndicated Match Game, as well as the co-host of ABC's Mike and Maty, and Home and Family. But you might also recognize Mike as the play-by-play host and announcer of Iron Chef USA, or as a recurring guest star on 8 Simple Rules. Michael is currently working on the set of TV Land's Hot in Cleveland with the popular icon, Betty White. Michael is currently working on his first book, "What I Did Before I Got Here" and is also a consultant with Ross Shafer Consultants, Inc. In his energizing keynote on Monday, March 11th, Michael will illustrate how his broadcast background has given him an astute sense for how cultural shifts change buying habits and how "Urgency is the New Customer Service".
Tuesday's keynote features iQor President and CEO, Norm Merritt, who will be discussing "The Customer Genome; Driving Value with Applied Analytics". Norm will discuss the digital network, tools and processes needed to capture, decode and act upon the unique genome of any given customer in the fundamental belief that by using applied analytics to understand each customer's unique DNA structure, you can improve the customer experience.
Additionally, the exciting line-up of break-out speakers and panelists will provide case studies, research, lessons learned from industry experts, analytics, and technology solutions as the basis of their content. Presenters will highlight the successes and challenges of their organizations and clients such as: TXU Energy, West Business Solutions, PossibleNOW and CompliancePoint, HomeServe USA, Ballard Spahr and many others.
Attendees will also experience exciting networking opportunities in the newly designed Expo Hall. This year, the Annual Awards Luncheon will be held on Monday and back by popular demand, the VIP Gala will be held on Monday evening. Tuesday evening will allow participants a chance to kick their heels up at Club PACE.
The convention will conclude on Wednesday morning with the participation in its philanthropic initiative – Call Centers CARE at Sojourner House. Since 1977, Sojourner House has provided shelter and support services to tens of thousands of women and children affected by domestic violence.
To register and find out more information, please visit http://www.paceassociationconvention.com
About PACE
The Professional Association for Customer Engagement (PACE) is the only non-profit trade organization dedicated exclusively to the advancement of companies that utilize multi-channel customer engagement support services as an integral channel of operations. PACE members include companies with inbound or outbound contact centers, users of contact centers, trainers, consultants, and equipment suppliers who initiate, facilitate, and generate telephone, Internet, and e-mail sales, chat service, and support.