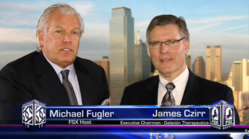 FSX is the only conference I know of that can give its companies global exposure for months after a conference.
Dallas, TX (PRWEB) February 21, 2013
Financial Services Exchange (FSX) has announced that the exclusive interviews granted by the management of companies that presented at the FSX Investment Conference held in Dallas, Texas from February 7-9th, 2013 are available on their Web Channel.
The recent FSX Investment Conference held in Dallas was a sold out success, attended by Private and Public Companies, FINRA licensed broker dealers, Investment Bankers, fund managers, RIA's, CFA's, Private Equity, Venture Capital firms and Companies that have a product or service that is used by independent broker dealer firms and or emerging growth companies.
Visit FSXInterlinkedTV to watch the exclusive interviews of the companies that presented at the Dallas Conference such as:
Galectin Therapeutics
Bion Environmental Technologies
Nemaha Water
Harrison Lease Acquisition & Development Corp.
Premier Holding
Madison Realty
Soul and Vibe
AmeriCare Clinical Technologies
CXO Collective
Infinity Energy
Mag-Lok Tools Inc.
Lotus Capital
Self Directed IRA
EnduRx
"FSX is the only conference I know of that can give its companies global exposure for months after a conference. Don't take my word for it; go to Google/news then search FSX and see for yourself. I have no doubt once FSX opens registration for the Investment Conference in San Francisco, it will sell out just like the Dallas one." stated CEO of Interlinked Delray Wannemacher.
FSX holds investment conferences four times a year in a different major U.S city where Emerging Growth companies connect with a nationwide network of financial investment professionals. FSX brings the CEOs and other Executive Officers of the Presenting Companies together with the Principals and key decision makers of the Broker/Dealers and other financial firms. FSX provides a forum where Presenting Company CEOs seeking capital and/or market support can go to showcase their companies in a dedicated environment that is conducive to networking and building financial relationships. Billions of dollars have been raised for companies at FSX Investment Conferences to date.
Their next event is scheduled to be held in San Francisco, from April 25-27.
About FSX & InterlinkedTV
FSX is one of the most reputable and established national alliances in the country for the independent broker/dealer network, providing education and opportunity. At each FSX conference, we bring the CEOs and executive officers of the presenting companies together with the principals and key decision makers.
InterlinkedTV is an internet video production and distribution site dedicated to Entrepreneurs and Investors. We feature education, public and private companies, venture capital news, and investment events. This content is exclusive and cannot be found anywhere else. We give our members and viewers a unique chance to meet the CEOs and executives of high growth companies.