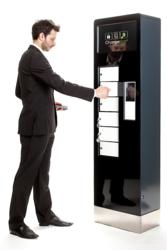 "We have designed ChargeBox+ so that site owners like Westfield can provide state of the art phone charging facilities for their visitors, ensuring they never run out of battery"
London, UK (PRWEB UK) 21 February 2013
ChargeBox, the worldwide leading provider of secure mobile device charging stations, announces the launch of the new ChargeBox+. This revolutionary charging machine provides mobile users with a convenient and secure way to charge up their mobile device when they are out and about.
Chosen as the preferred mobile device-charging provider for the event, ChargeBox+ will be launching at Mobile World Congress in Barcelona from 25th – 28th February. ChargeBox+ is unique in being able to deliver a secure device charging facility for use in public venues, providing an essential customer service for today's mobile-dependent users.
Visitors to Mobile World Congress will be able to experience ChargeBox+ first hand, as 18 free-to-use charging stations will be located at key points around the prestigious new conference venue at Fira Gran Via, Barcelona.
Users simply choose an available locker, plug in their phone, then lock the door removing the unique key. The service provides 30 minutes of charging time, which adds between 30-40% charge for most devices. The locker can of course be opened at any time by the user to retrieve their device.
ChargeBox+ has been developed after extensive usage experience at Westfield Stratford City, located right next door to the London 2012 Olympic Park. As Europe's largest urban shopping and leisure destination – with over 47 million visitors in its first year, there could be no better proving ground for user acceptance of the service.
Since installation in July 2012, the ChargeBox service has delivered over 350,000 device charges reducing "nomophobia" (no mobile anxiety), and allowing Westfield visitors to stay connected to friends, family and their online world.
Ian Hobson, Managing Director at ChargeBox commented, "We have designed ChargeBox+ so that site owners like Westfield can provide state of the art phone charging facilities for their visitors, ensuring they never run out of battery and can continue to use the apps they love and need as they go about their day. Our experience here has shown what a huge public demand and appreciation there is for the ChargeBox service"
To locate the nearest ChargeBox, download the free iPhone App "Low Battery".
ABOUT CHARGEBOX+
ChargeBox+ innovative mobile device charging stations are available in a range of configurations including a six-locker floor standing, and four-locker wall mounted cabinets. Open frame units can also be supplied for incorporation into clients' bespoke cabinet designs.
ChargeBox+ can be configured to provide both free phone charging and charging via coin, token, note or credit card payments.
Enhanced electronics include a touch-screen user interface, advanced telemetry via 3G or Wi-Fi, complete audit trail and charging detection for the highest security, performance and user satisfaction. Customer engagement opportunities are also a key element of ChargeBox+. NFC, scanner and camera enhancements can all be incorporated as well as video streaming and message communication via the enhanced 19" LCD screen.
ABOUT CHARGEBOX
ChargeBox Ltd, founded in 2005, is a privately-owned British company and is the World's leading provider in secure mobile charging solutions allowing users to confidently leave their devices on charge in highly secure lockers, so they are free to make the most of their time elsewhere. Clients range from travel hubs such as airports, coach stations and ferries, to retail outlets and shopping malls, casinos, hotels, event venues and hospitals, including Westfield Shopping Centres, Vodafone, Hilton Hotels, Gatwick airport, P&O Ferries, National Express and Grosvenor Casinos.
Learn more:http://www.ChargeBox.com,
Twitter@ChargeBox,
http://www.facebook.com/chargebox
ABOUT MOBILE WORLD CONGRESS
GSMA Mobile World Congress showcases the mobile industries leading trends, companies, technologies and solutions. Taking place in Barcelona, Spain, from 25-28 February 2013, this year's theme "The New Mobile Horizon" is expected to attract more than 70,000 attendees, including leading industry figures from around the world.
http://www.mobileworldcongress.com/
ABOUT WESTFIELD STRATFORD CITY
With 250 shops and 70 places to dine, Westfield Stratford City is the largest urban shopping and leisure mall in Europe and a stunning new lifestyle destination for East London.
As well as the many shops and restaurants, Westfield boasts a range of world-class leisure facilities, including a cinema, bowling lanes and casino.
Westfield Stratford City is part of one of the largest urban regeneration projects ever undertaken in the UK, and it is ideally positioned on the doorstep of the London 2012 Olympic Park.
http://uk.westfield.com/stratfordcity/
MEDIA CONTACT
Julie Stott
Marketing Communications Manager ChargeBox
0044 (0)7753 168018
Julie(dot)stott(at)chargebox(dot)com