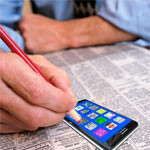 Indianapolis, IN (PRWEB) February 21, 2013
REKRUTR.com announced phase one completion of mobile access to their job distribution site this week. In a world where over a billion people are smartphone subscribers, mobile access to internet sites is extended into every part of an individual's life. A recent Stanford University "Internet Trends" presentation by respected venture capitalist Mary Meeker, sites 13% of internet traffic is mobile traffic, and this number is projected to climb. Job seekers, too, are finding mobile a quick, discreet way to search for a job anywhere and anytime. Savvy recruiters must advertise jobs in places that are accessible to the growing number of applicants who are searching for new careers using their phone.
Amy McDonald, contributor to the sites blog, The REKRUTR Vault, and CEO says, "We want to provide our users with the ability to reach candidates fast, where they are. Right now, research shows, it is on their mobile phone or device. Several users are already receiving mobile applicants."
The release of REKRUTR Mobile 1.0 this week allows REKRUTR to be easily viewed from any mobile device without the need for an app purchase. Recruiters can sign up for the service, and job seekers can conveniently apply to positions right from their mobile device. Future releases of REKRUTR Mobile are expected to enable users even more access to their jobs and to the candidates who are interested in them.
About REKRUTR: REKRUTR is a fully funded business enterprise based in Indianapolis, IN. Its team is comprised of former leaders in the recruitment industry. REKRUTR is an affordable, online job distribution site. The site enables the user to post all of their positions entering details for each only once. The ad is then distributed to over 30 job boards, social networking sites, and online media sources. These boards often share the jobs with their partners, sending many job ads viral. For more information, visit http://www.rekrutr.com.