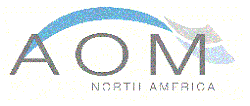 Syosset, NY and Cleveland, OH (PRWEB) February 21, 2013
AOMi, with its innovative method for operations management, focusing front-line managers and their staff on the achievement of quality and service levels at the optimum cost, today announced the launch of their new corporate video.
The video features Gordon Bain (an Active Operations Management coach and former client), who explains how AOMi makes a fundamental and lasting change to the way operations work on a day-to-day basis through their innovative approach to service operations management, Active Operations Management (AOM™).
The video highlights how AOM creates the optimum balance between an operation's cost, quality and service by focusing on three aspects: method, skills and tools. Learn how AOM can put operational control in the hands of team managers on the front line, enabling them to make decisions based on real time data. To view the video, please click here.
Schedule an informative call with AOM North America: Those Interested in scheduling an initial informative conference call and learn more about how AOM North America clients are realizing an average of 31% productivity improvement should contact Eric(dot)Sharpe(at)activeops(dot)com or chris(dot)garfield(at)activeops(dot)com.
About AOMi:
Active Operations Management International provides organizations with a structured and consistent operations management capability that is the catalyst for achieving operational excellence.
We recognize that service operations are complex and unique, requiring a structured management approach specifically designed for their environment. Typically, service operations rely heavily on people to convert demand into successful customer outcomes. For this reason, we developed Active Operations Management for service operations, an innovative approach to operations management that ensures that excellent performance is achieved through the creation of a positive and motivational atmosphere. Following a tried-and-trusted process, the implementation of Active Operations Management drives progressive and consistent changes in the behavior of managers, who quickly become confident decision-makers. By applying these principles, professional managers achieve significant performance improvements in their operations.
AOMi guarantees 10 – 40% productivity improvement within 12 months and guarantees 200% minimum return on investment. Overall client average is a 31% productivity improvement.
With global operations in six international regions, AOMi is a world leader in the improvement of operations management performance. More information can be found on our website http://www.activeops.us.com
Follow AOMi on LinkedIn.
Follow AOM North America on Twitter at AOM_NoA