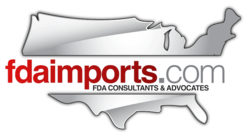 ...we enjoyed last year's banquet so much that we decided to become Platinum Sponsors for 2013.
Glen Burnie, MD (PRWEB) February 20, 2013
Maryland-based FDA consulting firm, FDAImports.com, will be the Platinum Sponsor for the Maryland-China Business Council's (MCBC) Chinese New Year Banquet on Wednesday, February 27, 2013, at Hunan Manor restaurant in Columbia, MD. The banquet will be the Council's 18th annual New Year event and one of many networking and training events put on each year by the Bethesda-based MCBC. In addition to enjoying an exquisite traditional Chinese banquet the event will provide valuable networking opportunities for many professionals, dignitaries and embassy personnel involved in US/China trade. "Partnering with MCBC is very important to us," said Rick Quinn, Principal at FDAImports.com and director of the firm's Chinese office in Qingdao. "We've developed a great relationship with MCBC and its friends and partners over the years; in fact, we enjoyed last year's banquet so much that we decided to become Platinum Sponsors for 2013." FDAImports.com (ExportToUsa.com.cn in China) works with private companies, trade groups and foreign governments in over 120 countries, to promote trade and the successful importation of FDA-regulated commodities to the United States.
About MCBC
The mission of the Maryland-China Business Council is to provide opportunities for increased business understanding and activity between the US and China, primarily assisting its members in the US Mid-Atlantic region. http://www.mcbc.net.
About FDAImports.com
FDAImports.com is an FDA consulting firm helping U.S. and foreign companies navigate through and meet complex FDA regulations for marketing and importing foods, dietary supplements, drugs, cosmetics and medical devices. Benjamin L. England, Founder and CEO, is a former 17-year veteran of the FDA and served as the Regulatory Counsel to the Associate Commissioner for Regulatory Affairs. Contact: Jon Barnes, (410) 220-2800 or pr(at)fdaimports.com.
###