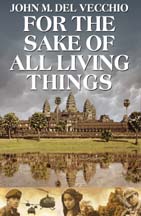 Exhaustive, emotionally powerful….Del Vecchio brilliantly portrays the labyrinthine tragedies that led to the 1970s cataclysm in Cambodia. —Publishers Weekly
Los Angeles, CA (PRWEB) February 21, 2013
As America and her allies were dealing with the aftermath of withdrawal from South Vietnam, the fall of that nation to communist forces from the north, and an isolationist public sentiment, dictator Pol Pot and his communist Khmer Rouge forces swept through Cambodia bent on exterminating any and all opposition. The result was a bloody rampage that killed nearly two million Cambodians, many slaughtered and left to rot in the dense jungles. Del Vecchio's book puts readers into the eye of that ultra-violent typhoon of death and destruction as his characters—Cambodian families, soldiers of all factions, and former a U.S. advisors—battle or flee to escape Khmer Rouge death squads.
This is a sweeping story that combines both human drama and political intrigue of the most nefarious variety. Through meticulous research and uncanny story-telling, "For The Sake Of All Living Things" puts the entire tragic Cambodian massacre in understandable context. Following a colorful and fascinating cast of characters, readers get not only the what and how—but also the why behind these tragic events.
Warriors Publishing Group is dedicated to connecting readers to the best in military fiction and nonfiction. WPG is a part of Warriors, Inc., the entertainment business' premiere military advisors, with credits including Band of Brothers, Saving Private Ryan, and many more. Our books provide entertainment and insight into the missions, motivations, and mentality of the military mind.