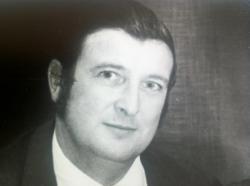 Ipswich, Suffolk (PRWEB UK) 21 February 2013
After losing his mother to a brain tumour as a child, and his father to metastatic prostate cancer in November 2011, self published author Simon Burford wanted to help raise money for cancer research while also finding a unique way to clear mounting debts caused by unmanageable new bills inherited from his father. Putting pen to paper, Simon began creating the next big Science Fiction epic, a perfect balance of masterful storytelling and British wit that would keep readers on the edge of their seats until they fell off laughing. His ultimate hope is to be able to use the project to raise cancer awareness and help secure a future in which people will no longer have to suffer as his parents did at the end of their lives.
Now, one year on, RewindTheMovie.net has officially launched and the first book in the trilogy - Rewind: The Empyreum War - is available in paperback and for Kindle, uniquely presented in script format so that readers can "see" every scene as it happens. Without funding of any kind, Simon has had to create everything himself from scratch - from the script and book to concept art and the design of the site itself. His hope is that, ultimately, the script will gain enough interest to be commissioned into a mainstream novel, comic book, movie or miniseries, with much of the profits going to cancer research. The first episode, comprising the first half of Book 1, is available to download and read for free from the website.
"As far as I know", says Simon, "this has never been done before. Normally, a script would be commissioned or sent out to television and film companies in the hope that someone might be interested in producing it. I'm doing the opposite - with RewindTheMovie.net, I'm inviting everyone to read the script and buy the book, hoping to raise enough interest that somebody somewhere might think it worth producing. If this happened, I would immediately give a large percentage of the profits to a cancer research charity in memory of my mum and dad."
Simon's mum, Beryl, had suffered from epilepsy for a number of years, and in her early forties was diagnosed with Hydrocephalus - Water on the Brain - a condition which ultimately led to the Brain Tumour which took her life. Simon was 14 when she passed away.
"At the age of 11," says Simon, "I will never forget finding my mother lying unconscious and bleeding after suffering a sudden seizure while cooking and falling backwards through a glass door. There are many illnesses from which people should not continue to suffer in the 21st century, and by donating money for cancer research, I hope we can take a step toward a future in which people no longer have to suffer, and toward an ultimate cure for Cancer."
In May of 2011, Simon's father Alan was diagnosed with prostate cancer. Unfortunately, by the time the cancer was discovered, it had already metastasised to his bones and there was nothing the doctors could do but make him comfortable. Over the next six months, he was hospitalised several times and went rapidly downhill from the independent man he had once been to finding himself bed-bound and reliant on Macmillan nurses, the local community team who called on him several times a day, and Simon to cook his meals and look after him in between. In October 2011, Alan suddenly started to hallucinate and was rushed into hospital where he was given a blood transfusion and seemed to make a brief recovery before his health deteriorated rapidly and he passed away in early November only hours after being transferred to the Baylham Care Centre near Needham Market.
"It had been my hope," says Simon, "that my dad would wake up and be able to sit and look out through the panoramic windows and enjoy the views of the Gipping Valley in his last days. My last memory of my dad is of him lying in bed in his room at the Baylham Care Centre, and sitting by his side thinking how peaceful he seemed."
About Simon Burford
Based in Suffolk, England, Simon Burford is writer and creator of the Rewind Project, and self-published author of Travel/Humour book "A Hole in the Hat". He enjoys spending his spare time writing, travelling, and updating a travel blog. Following the death of his father in late 2011 from prostate and bone cancer, Simon found himself left with massive bills he would not be able to pay, and began the Rewind Project in an attempt to raise money both to pay these bills and to raise money for cancer research in memory of his father and also his mother who he lost to a brain tumour at the age of 14.
Rewind: The Empyreum War is available in paperback and for Kindle from Amazon, by searching for "Simon Burford".