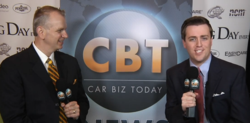 Atlanta, GA (PRWEB) February 20, 2013
Car Biz Today is releasing never-before seen interviews from big names in the automotive industry.
CBT's Bridget Everett interviewed Jason Barrie, senior director of product marketing at DealerTrack. Barrie discussed DealerTrack's services for driving digital marketing, website technologies for dealerships and the impact mobile marketing is having this year.
DealerTrack was established in 2001 and is the largest online credit application network in North America. Its award-winning solutions for dealers is the industry's most comprehensive and includes a dealer management system (DMS); inventory, sales/F&I and interactive; a web-based network for arranging vehicle transportation and shipping; electronic motor vehicle registration and titling applications; paper title storage and digital document services.
CBT's Russell Brown also caught up with Dave Anderson, president of Learn to Lead. Learn to Lead's mission is to provide tools and inspiration for clients who need to reach personal and corporate potential. Anderson spoke on maximizing accountability though maximizing leadership and encouraged dealers to stay in attack mode and to stay involved with the people.
To see Barrie and Anderson's full interview, visit http://www.CBTNews.com.
CBT News/Car Biz Today, is an online news source dedicated to providing the retail automotive industry with news, training and event coverage through various forms of multi-media journalism. The online news source has more than 25,000 subscribers made up of new car dealers and their personnel. CBT News is home to award winning broadcasters and is headquartered in Atlanta, Ga.