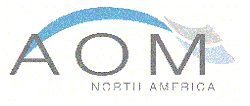 We will continue on this trajectory, enabling front-line managers with our proven method, to help our customers maximize performance, including extracting the full value of their process improvement initiatives like Six Sigma and Lean
Syosset, NY and Cleveland, OH (PRWEB) February 26, 2013
AOM North America, with its innovative method for operations management, focusing front-line managers and their staff on the achievement of quality and service levels at the optimum cost, today announced how the company's proven methodology represents Breakthrough Thinking in leading the market in Performance Improvement Management (PIM), replacing traditional quota based thinking with a collaboration based method in top organizations across North America.
At its core, AOM North America provides an innovative method that enables and leverages the full potential of front line managers and staff to access latent capacity, drive innovation, create competitive advantage and make better decisions about their business. "We will continue on this trajectory, enabling front-line managers with our proven method, to help our customers maximize performance, including extracting the full value of their process improvement initiatives like Six Sigma and Lean," stated Terry Woods, CEO of AOM North America. AOM North America provides this innovative overarching method and we intend to aggressively grow our leadership in this space."
Breakthrough thinking: Empowering the Front-Line
Companies across the globe are racing to exploit process improvement trends like Six Sigma and Lean with the goal of reducing costs, empowering their workforces and better serving customers. Organizations are also struggling to rationalize these process improvement solutions with the challenges faced by front-line managers as they feel the squeeze between corporate demands and customer satisfaction. Realizing that as little as 10% of front line managers' time is truly spent managing operations and staff; many organizations are turning to AOM North America for their Breakthrough Thinking method to truly empower the front line.
In contrast to the common solutions mentioned above, best-practice organizations "method enable" their managers to take responsibility for making decisions and responding rapidly to issues or opportunities. Front-line managers have an intimate knowledge of their team's specific tasks, requirements and workloads in real-time and are therefore best placed to make decisions about its operation. Transferring more control to front-line managers enables them to become more engaged with their staff and the performance of the operation improves. However, a professional, common operations management method is needed to support and maintain this level of collaboration and control in order for it to be successful. The optimum method should enable organizations to access the latent capacity within their operation, measure who the most effective managers are, and allow front-line managers to gain control over their team's day, week or month, as well as their productivity and plans for the long-term, and to foresee and actively minimize any potential obstacles.
AOM North America strategy leverages the company's existing products, expertise and experience to help organizations extract maximum value from their workflow process and information assets. Already, over 40,000 staff of AOMi global customers, in 35 countries, are applying this Breakthrough Thinking method and unleashing the power of people.
Schedule an informative call with AOM North America: Those interested in scheduling an initial informative conference call should contact Eric Sharpe or Chris Garfield.

About AOMi:
Active Operations Management International provides organizations with a structured and consistent operations management capability that is the catalyst for achieving operational excellence.
We recognize that service operations are complex and unique, requiring a structured management approach specifically designed for their environment. Typically, service operations rely heavily on people to convert demand into successful customer outcomes. For this reason, we developed Active Operations Management for service operations, an innovative approach to operations management that ensures that excellent performance is achieved through the creation of a positive and motivational atmosphere. Following a tried-and-trusted process, the implementation of Active Operations Management drives progressive and consistent changes in the behavior of managers, who quickly become confident decision-makers. By applying these principles, professional managers achieve significant performance improvements in their operations.
With global operations in six international regions, AOMi is a world leader in the improvement of operations management performance. More information can be found on our website http://www.activeops.us.com
Follow AOMi on LinkedIn.
Follow AOM North America on Twitter at aom_noa