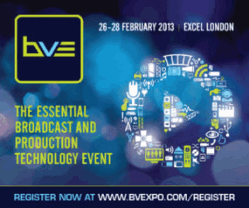 Ottawa, ON (PRWEB) February 20, 2013
Unlimi-Tech Software, Inc., a pioneer in managed file transfers and the creator of FileCatalyst, the world's leading accelerated file transfer solution, will be showcasing the fastest file transfers available in the broadcast industry at the upcoming BVE 2013 show in London, UK, February 26 to 28.
At 10 Gbps speeds, FileCatalyst UDP-based technology enables the world's fastest file transfers for media and entertainment, and a variety of other industries. File transfers at this speed will be demonstrated at the FileCatalyst stand (AA12) at BVE, showcasing the blazing fast speed of large media file transfers with FileCatalyst acceleration.
The timely transfer of video files within the broadcast industry is crucial; with footage shot and sometimes edited on location, getting the footage back to the studio quickly is essential. Slow transfers can disrupt schedules and even cause delays when file transfers are inefficient and unreliable. Adding to these challenges is the growing adoption of HD video formats by studios, increasing file sizes which can lead to slower transfers.
With over 16,000 industry professionals in attendance, FileCatalyst will be giving frequent demonstrations of their accelerated and managed file transfer solutions to the BVE attendees, as well as answering any questions the audience may have in regard to accelerated file transfer and broadcast.
About Unlimi-Tech Software
Located in Ottawa, Canada, Unlimi-Tech Software is the creator of FileCatalyst, the world's leading accelerated file transfer solution. Founded in 2000, the company has more than a thousand customers in media & entertainment, energy & mining, gaming and printing, including many Fortune 500 companies as well as military and government organizations. FileCatalyst is a software platform designed to accelerate and manage file transfers securely and reliably. FileCatalyst is immune to the effects that latency and packet loss have on traditional file transfer methods like FTP, HTTP or CIFS. Global organizations use FileCatalyst to solve issues related to file transfer, including content distribution, file sharing and offsite backups.