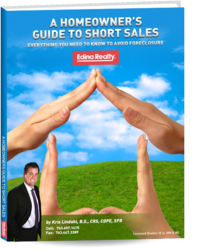 It's important to get this information out to the public.
Minneapolis, MN (PRWEB) February 20, 2013
Kris Lindahl of Edina Realty hosted a short sale seminar in Minneapolis, MN yesterday morning. Lindahl is Edina Realty's number one short sale agent. The seminar featured Lindahl with a step-by-step approach to the short selling process. With each step Lindahl provided strategies and resources that homeowners can use to simplify or expedite the process.
"It's important to get this information out to the public," Lindahl said at the seminar. His many years of experience have afforded him to formulate and recognize the perfect short sale experience for his clients. His blend of professional and technological expertise has earned him the unofficial title of Internet Marketing Specialist.
Kris Lindahl is a real estate professional for Edina Realty with the following designations: Certified Distressed Property Experts (CDPE), Short Sale & Foreclosure Resources (SFR), and Council of Residential Specialists (CRS).
Call Kris and his team at (763) 607-1415 for more information. Visit the Minnesota Short Sale Calculator website to check eligibility. Download a complimentary copy of the eBook titled "A Homeowner's Guide To Short Sales" and check out the video series on YouTube.