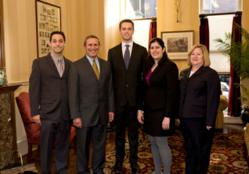 (PRWEB) February 22, 2013
The Law Firm of Pozzuolo Rodden P.C., announces the release of the article "How To Use A Trust To Protect Your Children's Inheritance From Divorce". Below is a sample of the first couple of paragraphs. If you would like to read more, please read the full article and other corporate law, or estate planning topics at http://www.pozzuolo.com/Pubs_Articles.shtml
How To Use A Trust To Protect Your Children's Inheritance From Divorce
"Parents never want to envision their children going through a divorce, yet divorce is a common statistic and every parent should be aware of how to protect their children's inheritance in the event of divorce. Placing your child's inheritance in a trust is an important estate planning tool that every parent should consider.
In Pennsylvania, property acquired during a parties' marriage is considered to be "marital property" and subject to equitable distribution. While property acquired as a gift, bequest, devise or decent is excluded from the definition of "marital property" that exclusion only applies if that property is not co-mingled with "marital property." Therefore, if your child's gift, bequest or devise is placed into a joint account or used and enjoyed by both your child and his/her spouse then it may be subject to equitable distribution and your child would not receive the full inheritance you intended to give them.
A trust operates differently from a will or gift to your children, because the trust itself owns the assets you would have given to your children and your children are the beneficiaries of the trust, allowing them to receive distributions of the trust assets pursuant to the terms of the trust. A trust may be either revocable and/or subject to change or irrevocable with terms that cannot be changed. During your lifetime you can make the trust a revocable trust with yourself named a trustee, allowing you to control your assets and modify or amend the trust agreement as you see fit. However, upon your death the trust can become irrevocable, cementing the terms of the trust agreement and protecting your assets from children's creditors, such as an estranged spouse in divorce litigation, while you children remain beneficiaries of the Trust.
As beneficiaries, your children receive distributions from the Trust pursuant to the terms of the trust agreement. The terms of the trust can be drafted to allow your child's inheritance to be distributed over time according to the terms and conditions you set. This allows for greater creative flexibility in how your assets are disbursed to your children and offers far greater protection for your children's inheritance in the event of his/her divorce....."
If you would like to read more, please read the full article "How To Use A Trust To Protect Your Children's Inheritance From Divorce" and other corporate law or estate planning topics at http://www.pozzuolo.com/Pubs_Articles.shtml
Pozzuolo Rodden, P.C. provides specialized cost-effective legal services to privately held business owners and high-net-worth clients in Pennsylvania and New Jersey in excess of 35 years.
Practice Areas:
Business planning and transaction, complex business litigation, commercial real estate and development, construction law and litigation, advanced estate planning and administration, tax and pension law, high profile and intricate family litigation, and employment law and litigation.
Pozzuolo Rodden, P.C.
Counselors at Law
2033 Walnut Street
Philadelphia, PA 19103
215-977-8200
http://www.pozzuolo.com