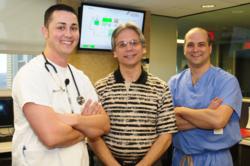 YOUNGSTOWN, Ohio (PRWEB) February 20, 2013
The St. Elizabeth Robotic Surgery Center recently achieved a landmark accomplishment: completion of its 1,000th robot-assisted surgery.
Dr. Daniel Ricchiuti, a board-certified surgeon and director of the St. Elizabeth Robotic Surgery Center, completed the surgery Jan. 22, removing a cancerous tumor from the kidney of a 56-year-old man.
The patient, David Slifka, is an employee in the maintenance department at St. Elizabeth Health Center and says he opted for the minimally invasive, robot-assisted procedure over traditional open surgery because he much prefers a few tiny incisions and speedy recovery to an incision that could stretch the entire length of his side, include the removal of a rib and require several weeks of recuperation.
The robot-assisted procedure, Dr. Ricchiuti explains, required only a few tiny incisions through which the surgical instruments and camera were inserted into Slifka's body. The surgeon then controlled the microscopic movements of the surgical instruments to remove the tumor and close the resulting incision in Slifka's kidney.
Had the surgery been done through a few small incisions using traditional laparoscopic instruments, Slifka could have lost the entire kidney. This is because laparoscopic instruments are rigid and lack the dexterity of the robotic instruments – robotic surgical instruments have a greater range of motion than the human wrist and therefore can be used to perform extremely precise procedures.
Because robot-assisted surgery is less invasive than traditional open surgery and more precise than laparoscopic surgery, there is less blood loss, lower risk of infection, less pain, less scarring and quicker recovery for patients.
"I feel very good," Slifka said just days after undergoing the robot-assisted surgical procedure. "My doctor hasn't released me to go back to work yet, but I feel good enough to be out shopping."
Robot-assisted surgery, the world's most advanced surgical treatment option, was introduced at St. Elizabeth Health Center in 2007. At that time, surgeons at St. Elizabeth employed the da Vinci surgical system to perform urological procedures such as prostatectomies. Since then, the number and variety of robot-assisted surgeries offered at St. Elizabeth Robotic Surgery Center have grown to include a much wider variety of urologic procedures as well as gynecologic and general surgical procedures.
To accommodate the ongoing growth in the robotic surgery program, Humility of Mary Health Partners opened its new St. Elizabeth Robotic Surgery Center last summer. The new unit, on the top floor of St. Elizabeth Health Center, offers spacious, private rooms for patients as well as some of the best views of the city and followed a $2.5 million investment in new surgical equipment.
Humility of Mary Health Partners (HMHP), which introduced robot-assisted surgery at St. Joseph Health Center in Warren last spring, is the only health care provider in nine contiguous counties – Mahoning, Trumbull, Columbiana, Ashtabula, Geauga and Portage counties in Ohio, and Mercer, Lawrence and Beaver counties in Pennsylvania – to offer robot-assisted surgery.
About Humility of Mary Health Partners:
Humility of Mary Health Partners is an integrated health system located in the Youngstown/Warren area. It is a region of Catholic Health Partners (CHP) in Cincinnati, the largest health system in Ohio and one of the largest Catholic health systems in the United States. HMHP provides a full spectrum of health care services, including inpatient, outpatient, emergency, urgent care, home care and long-term care. Members are St. Elizabeth Health Center, St. Joseph Health Center, St. Elizabeth Boardman Health Center, HM Home Health Services, The Assumption Village, Humility House, Hospice of the Valley and Laurel Lake. Learn more about HMHP online at http://www.HMpartners.org. ###