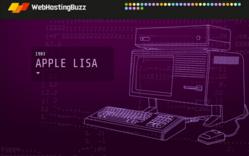 The Apple Lisa was the first personal computer that featured a Graphical User Interface, offering a visually driven experience where the user clicked on tiny pictures (icons) with a mouse. This heavily influenced the direction of future computers...
(PRWEB) February 21, 2013
To celebrate the 30th anniversary of the Apple LISA, the first Personal Computer to utilise a Graphic User Interface and mouse, WebHostingBuzz (http://www.webhostingbuzz.com) have constructed a visually driven timeline following the evolution of the Personal Computer. You can view the interactive timeline at http://www.webhostingbuzz.com/evolution-of-computer/.
The timeline includes the most notable advancements in technology from the last 40 years of computing, ranging from the widely recognised Commodore 64 to the present day Apple iPad. Less successful examples such as the Apple III are also included, painting a vivid picture of the rise and fall of computing and just how far it has come in such a short space of time.
Although the timeline effectively highlights the progress Personal Computers have made and where they are heading, with more emphasis being on touch screen devices, it also outlines how unforeseen emerging technologies can unexpectedly completely shift their direction.
About WebHostingBuzz
WebHostingBuzz offer a range of hosting services to their European and US customers with a focus on reliable, fast web hosting backed up by award winning customer service. They also operate under WebHostingBuzz.co.uk, catering to the European market with data centres in the East Midlands and Amsterdam.