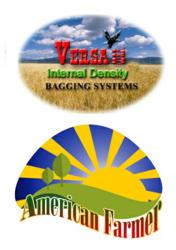 Astoria, OR (PRWEB) February 21, 2013
Versa Corporation announced today they will be featured in an upcoming episode of American Farmer airing later this year on RFD-TV.
In this episode of American Farmer, viewers will learn about Versa Corporation and their revolutionary silage bagging equipment that enables farmers to realize a 20 percent saving on forage loss.
American Farmer will explore Versa's silage baggers, which are among the safest and easiest machines to operate. With smoother packed bags in all feedstuffs, there is less space between bags, and more tons per storage area. In addition, Versa's bag length is not limited by cables, and has multiple quick attach tunnel choices. Viewers will be amazed by Versa's easy set-up, which proves to be faster than most other baggers on the market.
"We at Versa Corporation work hard to provide the most innovative and reliable silage bagging equipment on the globe, along with unparalleled customer service and support. We're proud to have the opportunity to show the latest in silage storage technology in the American Farmer series, " said Steve Cullen, President of Versa Corporation.
"Advancements in technology are helping provide the agriculture world with more solutions to pending problems," said Charles Cowan, producer for American Farmer. "Versa Corporation has revolutionized silage bagging equipment, and I'm excited to bring this information to our viewers."
Versa Corporation was founded by Steve Cullen. Mr. Cullen is the longest operating person in the industry. "We are original equipment manufactures specializing in Versa silage bagging machines with sizes to match small to large operations around the world. Our customers are some of the most successful operators in the business with a 99% customer repeat loyalty," said Steve Cullen.
For more information, visit: http://www.versacorporation.com or call 503-325-6232.
About American Farmer:
American Farmer is a breakthrough program on a mission to showcase the latest advancements in agriculture and farming. From seed to harvest, livestock and more, our producers have traveled the country covering the people, places and issues impacting all areas of farm country.
American Farmer airs Tuesdays at 8:30am EST on RFD-TV as well as Saturdays at 1:30pm and Midnight EST on RURAL-TV.
For more information visit: http://www.americanfarmertv.com or call (866) 496-4065.
Media Contact:
Charlie Cowan, Producer
(866) 496-4065 x 875
charlie(at)americanfarmertv(dot)com