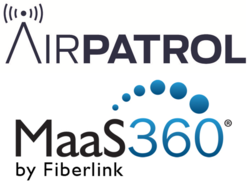 The joint solution combines the comprehensive management and security of MaaS360 with the precise monitoring, positioning and zoning capabilities of ZoneDefense LT.
Columbia, MD and Blue Bell, PA (PRWEB) February 21, 2013
Combining two of the hottest technologies in mobile device management (MDM) and security, AirPatrol Corporation announced today that it will release a location-based policy control system designed specifically for Fiberlink's MaaS360 solution. ZoneDefense LT for MaaS360 extends MaaS360's mobile device management capabilities with extremely accurate monitoring and context-aware policy controls that can modify a device's features and functions based on its location within a secured facility. AirPatrol and Fiberlink will be demonstrating the new offering at the RSA Conference 2013, in booth #656 on February 25-28.
The joint solution combines the comprehensive management and security of MaaS360 with the precise monitoring, positioning and zoning capabilities of ZoneDefense LT. With this approach, a user's device will dynamically change its active policy as it traverses zones in addition to other contextual information such as role in the organization and device type. Moreover, unauthorized devices, even those with their Wi-Fi radio turned off will be detected and located, creating real-time actionable data to secure the enterprise.
MaaS360 is an award-winning solution for enterprise mobility management (EMM) that spans across applications, documents, and devices from a single platform. Delivered as a cloud service, MaaS360 gives organizations instant visibility and control over their entire mobile environment enabling them to implement policies that promote employee productivity and protect corporate data. Integration with ZoneDefense LT adds the power of location to the solution.
AirPatrol's ZoneDefense LT is an advanced Wireless Intrusion Detection System for both Wi-Fi and cellular devices. Originally developed for government, military and high security commercial installations, ZoneDefense LT continuously monitors an environment for the presence of both authorized and unauthorized wireless devices, pinpoints their location within 10 feet and triggers actionable alerts based on user defined zones. The integration with MaaS360 adds powerful MDM cloud-based capabilities to the solution.
"According to a recent report by Berg Insight, location-based and context-aware mobile device services will be a $1.3 billion market by 2017 but they are still largely absent from MDM systems," said Dr. Guy Levy-Yurista, CTO at AirPatrol. "Mobile devices are by their very definition moving targets and create different security risks and liabilities as they travel through an area. Enterprises are realizing that static, one-size-fits all mobile security solutions aren't the answer. They need context-aware systems capable of reacting in real-time to the ever-shifting requirements and/or restrictions of a mobile workforce whether in the office or on the road."
"The BYOD era continues to expand and change how daily business is conducted," said Chris Isbrecht, director of product management at Fiberlink. "Securing and managing the mobile enterprise must be simple, scalable, and contextual to address the full breadth of an enterprise's mobility reach and support requirements. This innovative solution is an industry first to converge cyber and real-world security."
The RSA Conference will have continuous demonstrations of ZoneDefense LT for MaaS360; please visit booth #656 for more details.
About AirPatrol Corporation
Based in Columbia, Maryland, AirPatrol is internationally known for its suite of location-based security systems that identify, monitor and manage mobile devices on wireless and cellular networks. AirPatrol mobile security products can determine specific device compliance with security policies and actively enforce policies by limiting or modifying a device's capabilities while it is within the secured zone. AirPatrol customers include large three letter agencies, military, government, major enterprises and other organizations. For more information on AirPatrol Corporation and its products call 410-290-3446, email: ledwards(at)airpatrolcorp(dot)com or visit http://www.airpatrolcorp.com
About MaaS360
MaaS360 by Fiberlink simplifies mobile device management (MDM), mobile application management (MAM), and secure document sharing in the BYOD era. Trusted by small businesses, government agencies, universities, and large enterprises worldwide, MaaS360 enables mobile policies that boost productivity, protect employee privacy, and secure sensitive data across smartphones, tablets, and laptops. Built on a highly scalable, cloud architecture, MaaS360's on-demand mobility management can be deployed in minutes and seamlessly integrates with existing infrastructure, extending enterprise systems to a mobile environment. Backed by 20 years of experience and the most responsive customer service in the industry, MaaS360 helps organizations transform business operations and reduce the costs of supporting the expanding mobile workforce. To learn more and get started, visit http://www.maas360.com
For More Information:
Lauren Edwards
AirPatrol Corporation
ledwards(at)airpatrolcorp(dot)com
202-567-7719