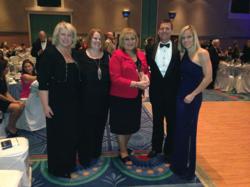 Giving our employees the opportunity to expand their career, learn more about the markets we serve, and become more well-rounded professionals helps us achieve our ultimate goal of client satisfaction
Providence, RI (PRWEB) February 20, 2013
For the ninth time, Gilbane Building Company has been recognized by Training Magazine for the outstanding work of Gilbane University. Ranking among the top 30 leading companies across all industries and one of the top 5 construction firms, Gilbane was also the only construction firm to receive a Best Practice award. Gilbane University offers a wide range of construction, project management and leadership educational experiences and resources for employees, clients and partners.
"We make an investment here at Gilbane in developing the best people," says Bill Gilbane, Jr., president and COO. "We pride ourselves on being able to build the best teams for the job at hand. Giving our employees the opportunity to expand their career, learn more about the markets we serve, and become more well-rounded professionals helps us achieve our ultimate goal of client satisfaction."
In addition to its national ranking, the company was recognized as one of five Best Practice award recipients from a field of 250 for its Sales Transformation Program, which was developed to implement a "One Gilbane" strategy and culture. The model embraces a mindset in which those who manage the construction process are also responsible for encouraging new business, contacts, and facilitating sales. This concept has had a profound effect on Gilbane's approach to the sales process, resulting in a better understanding of client needs and stronger client relationships overall.
"We're not drawing a line anymore between the sales function and the operational perspective," says Nancy Libardoni, vice president of enterprise learning and development at Gilbane. "Our business development team members understand what our clients are looking for, and our construction professionals can help bridge the gap between what those solutions are and what they can mean for the client's individual project.
"To ensure the success of this program, we've developed a dedicated, robust training and coaching program that involves everyone from senior leadership to sales to operations professionals, clearly defined metrics, and a wide range of resources. This program is ongoing and helping to drive Gilbane's growth and client satisfaction."
About Gilbane, Inc.
Gilbane provides a full slate of construction and facilities-related services – from pre-construction planning and integrated consulting capabilities to comprehensive construction management, close-out and facility management services – for clients across various markets. Marking its 140th year in operation and still a privately held, family-run company, Gilbane has more than 60 office locations around the world. To find out what the next 140 years have in store, visit http://www.gilbaneco.com.