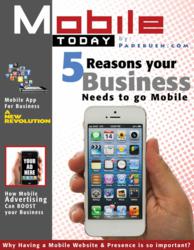 Los Angeles, California (PRWEB) February 21, 2013
Padebuen.com, a new company that offers mobile services, such as mobile websites and apps, has just released a digital mobile magazine that caters to small and local business owners that want to increase their sales by leveraging the power of mobile technology. The magazine can be downloaded at http://padebuen.com/magazines/1.
According to the specialists, mobile is to overtake fixed Internet access by 2014. As a matter of fact, out of 2.9 billion people who access the Internet on a regular basis, 1.5 billion use their mobiles. Mobile usage was on the rise last year, when the global increase was over 10%. The biggest growth has been observed in Asian countries, where the increase was 17.84% in only one year. In the United States, the increase was 7.96%, which is also considered very huge, compared to only 2.86% in South America (Source: grabstats.com/statmain.aspx?StatID=1639).
Today, mobile technology is much more than a simple trend. In fact, it has been already established as a dominant technology on the market, allowing people to communicate better and to run businesses easier. A business that is not using mobile as a main marketing channel may lack the competitive advantage corporations and large companies have. These huge companies realize the need to leverage the power of mobile websites and apps to thrive in today's market. A business that is trying to catch up with its consumers' behaviour needs to understand that a mobile website is a must. More information about mobile websites for business owners can be found at http://padebuen.com/small-business-mobile-website/.
Padebuen.com is a new company dedicated to help local businesses understand the real benefits of going mobile. Based in Philippines, the company works with experienced mobile website and app developers in order to ensure that the quality they provide surpasses all expectations. With a good staff, Padebuen prides with its unique services, which include: high-quality mobile websites, mobile apps, website design, social media management and other services. In order to help their clients to connect with their target audience and market segment on a deeper level, Padebuen.com use the latest marketing techniques to study the market and to discover what customers really need. By doing so, they are able to create compelling content that can inspire their customers to interact with the company.
The digital mobile magazine released by Padebuen.com outlines the top 5 reasons a business needs to go mobile. This mobile magazine provides important and relevant information regarding a business needs. There are 5 essential elements each mobile site needs to have, and Padebuen.com is revealing them in their magazine in order to help today's companies see the naked truth about mobile marketing. Business owners and marketers who study the magazine can find many other vital information for their companies. For example, they can discover the tremendous power of QR Codes, the best ways to use text messaging in a marketing strategy and how to promote a mobile website with ease.
Google has radically changed its position towards mobile websites. If a few years ago it didn't pay too much attention to this trend, today Google gives more authority to a website that has a mobile version and benefits of a proper SEO (Search Engine Optimization) strategy. Google (and other search engines) extensively target mobile search, because almost everyone has come to realize that smartphones are the fastest and easiest way to access the Internet. People who are always on the go are really keen on purchasing expensive gadgets, such as high-end smartphones and tablets, to access the Internet anytime, anywhere. Google realized this and they've decided to give a hand to those businesses that want to leverage the power of mobile websites.
The digital mobile magazine also reveals some mobile SEO information. A business that is able to leverage the power of mobile SEO won't have any problems in breaking new ground in its niche. On top of all, Padebuen.com has decided to introduce into their magazine important facts about mobile apps. All these mobile apps ideas are ideal for any business that wants to ease the process of reaching their customers, converting them into loyal customers and helping them to promote the business all across the Internet.
Interested business owners and other people can download the digital mobile magazine at http://padebuen.com/magazines/1.