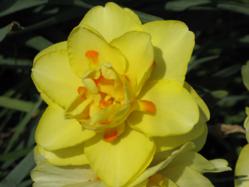 Gloucester, Va. (PRWEB) February 20, 2013
The Inn at Warner Hall is pleased to announce its new "Dinner and a Discussion" Series, starting Wednesday, March 27 at 5:30 p.m. at the Inn at Warner Hall.
Brent Heath, of Brent and Becky's Bulbs in Gloucester, will kick off the evening and lead a discussion on spring bulbs, daffodils and gardening. A gourmet buffet dinner by Warner Hall's Chef Eric Garcia will follow.
Heath has been featured on, among other media outlets, the Martha Stewart Show.
"I've been a big fan of Brent and Becky's Bulbs for many years," Stewart wrote in her Blog. "You may recall seeing Becky and Brent on my television show. Brent actually made his debut … when he demonstrated how to force spring bulbs to flower early in containers."
Heath's visit to Warner Hall falls at the onset of spring and the annual Gloucester Daffodil Festival and Daffodil Show.
Brent and Becky Heath are third generation bulb growers. They started Brent and Becky's Bulbs in 1979 and, according to their web site, are "proud to know they have helped many thousands of gardeners plan bulbs and harvest smiles!"
The "Dinner and a Discussion" events are $75 per person and include a gourmet buffet dinner by Chef Eric Garcia, complimentary wine and the featured speaker. The next events will be held April 24 and May 29.
Seating is limited. Contact Warner Hall to reserve a seat at 800.331.2720 or info(at)warnerhall(dot)com
ABOUT THE INN AT WARNER HALL:
Ideally situated at the head of the Severn River in Gloucester County, the manor house at Warner Hall stands on a neck of land occupied and built upon continually from the mid-17th century. The original six hundred-acre plantation site was established by Augustine Warner as a "land grant" from the British Crown. Augustine Warner received the acreage in exchange for bringing twelve settlers across the Atlantic Ocean to the Jamestown Settlement.
The two families associated with the property from this early period until well into the 19th century, the Warners and the Lewises, were among the most prominent families in Colonial Virginia. Some of the most recognized names in American history are direct descendants of Augustine Warner – George Washington, the first president of the United States, Robert E. Lee, the most famous Civil War General and Captain Meriwether Lewis, renowned American explorer of the Lewis & Clark expedition.
Queen Elizabeth II, the current monarch of England, is a direct descendent of Augustine Warner through the Bowes-Lyon family and the Earl of Strathmore. In England, Warner Hall is referred to as "The home of the Queen's American ancestors."
For Theresa and Troy Stavens, the current stewards of Warner Hall and the Inn's owners, Warner Hall is a dream come true. Their passion for hospitality and historic preservation led them to Warner Hall where they saw the perfect opportunity to use their financial management and marketing skills to preserve an historical property and pursue their real passion – making people happy.