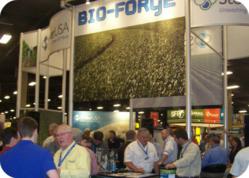 Each year at Commodity Classic we see new growers looking to existing StollerUSA customers.
Kissimmee, FL (PRWEB) February 21, 2013
StollerUSA welcomes attendees to the 2013 Commodity Classic and the Progressive Grower Roundtable Learning Session. As the leader in plant performance technology, StollerUSA is sponsoring this unique roundtable event featuring four progressive yield contest growers from across the nation as they share their successes and struggles.
Agricultural reporter, Ken Root will moderate the event opening morning of Commodity Classic on Thursday, February 28th. The panel features four well known growers:

Kip Cullers, World Record Holder with 160.6 bu/acre soybeans from Stark City, MO
Dave Hula, National Yield Contest Winner with 429 bu/acre corn from Charles City, VA
Steven Albracht, producer of corn, soybeans, wheat, milo and cotton from Hart, TX
Bob Little, yield contest winner and certified crop agronomist from Hebron, IN.
This roundtable discussion features an open forum where these state, national and world yield contestants will focus on their strategy and approach to growing high-yielding and profitable row crops, with each panelist briefly outlining their most critical challenges and how they address them. Attendees will be able to ask questions and enter the discussion during the Q&A session.
After the Learning Session is complete StollerUSA will host these and several other progressive growers at their booth, #1109, for Ask the Grower interview sessions. Growers nationwide will openly discuss their yield contest management practices and how they maximize yields each year. High profile farmers from AR, IA, IL, IN, KS, MN, MO, TX, VA and WI share how they benefit from the use of Stoller technology. StollerUSA's technical team will be on hand to answer questions about specific products, applications and growing conditions.
"StollerUSA is excited to sponsor this one-of-a-kind roundtable event where prominent growers can share their stories firsthand with Commodity Classic attendees," explains StollerUSA Marketing Director Jeff Morgan. "Each year at Commodity Classic we see new growers looking to existing StollerUSA customers for innovative ideas to push the yield barrier and what better way to inspire yield contest growers than providing the opportunity for them to hear directly from progressive, record-setting growers like Cullers, Hula, Albracht and Little."
About StollerUSA
Headquartered in Houston, Texas for over 47 years, StollerUSA is dedicated to helping producers enhance yields by maximizing genetic expression. Only Stoller products contain Stoller's proprietary technology that is proven to ensure optimum plant growth by maintaining appropriate hormone balance and activity. In combination with proper nutrition and good farming practices, the result is enhanced marketable yield, significant return-on-investment and improved stress tolerance. Validated by Universities nationwide, Stoller's unique formulations outperform traditional products and result in healthier, more productive crops that are better able to achieve their full genetic potential.