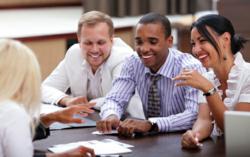 Loughborough is a bustling town with excellent transport links by road and rail, making it very attractive to business start-ups
Loughborough, Leicestershire (PRWEB UK) 28 February 2013
New research from company formation agents, Duport.co.uk shows that net company growth in Loughborough rose significantly last year.
Between January and December, the company register increased by 217, compared to 136 in 2011 and just 13 in 2010. In addition, company formation numbers rose in 2012. There were 578 new companies formed last year, representing a 12% rise on 2011.
Loughborough's Town Centre Masterplan was set up in 2006, and is now well underway. The vision for the town centre includes easy accessibility for all visitors, building high quality mixed-use developments and nurturing a mix of retailers, whilst protecting the unique character of the town. Improvements such as these may have attracted more new businesses to the area, which would explain the rise in company formations over the last year.
Managing Director of Duport.co.uk, Peter Valaitis said:
"Loughborough is a bustling town with excellent transport links by road and rail, making it very attractive to business start-ups.
"The rise in new companies will diversify the business base, which should help to strengthen the local economy in years to come, providing more jobs and generating wealth."
The Duport Business Confidence Report for Loughborough contains detailed, accurate data that provides an insight into the local economy. More information and statistics can be found at http://www.duport.co.uk/loughborough.
Duport Business Confidence Reports are generated and released by Duport Associates Ltd. The data contained in these reports is assimilated and analysed by Duport using public record data from sources including Companies House, Office for National Statistics and Ordnance Survey. Duport Associates Ltd is a leading UK company formation agent, established in 1997 and registering around 10,000 new companies each year through its Companies House approved software.