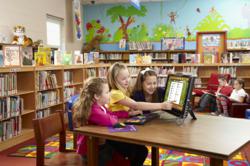 AWE has 13,842 computer workstations in 3,721 locations across North America.
Chester, PA (PRWEB) February 20, 2013
AWE, Inc. recently surpassed 100 million hours in early learning time for young children in the U.S. and Canada through its family of products, including the Early Literacy Station™, the Student Learning Center™, and the AfterSchool Edge™. AWE's workstations are found in more than 3,700 locations across North America. AWE was able to recognize this milestone of 100 million hours by tracking the usage data of its digital learning solutions.
AWE's workstations include comprehensive, best-of-breed software programs for children that cover all curricular areas, from math and reading to science and art. Each product includes over 60 programs. The computer workstations feature a user interface design that makes it easy for children to navigate and explore on their own.
The Early Literacy Station, AWE's flagship digital product, is found in more than 35% of public library systems in the United States, where it is lauded by librarians for its simplicity, efficacy, ease of management, and its ability to make learning fun.
The stations are designed for preschools, public libraries, elementary schools, and child care centers and are appropriate for preschool through 6th grade children. A particular advantage of the stations is that they deliver an almost inexhaustible amount of activities without needing an Internet connection, creating a safe and secure environment for children as well as the organizations that manage the AWE workstations.
"Our goal is to make the best in educational software available to children in a complete package that is customizable to their interests and needs—and that is a painless technology from a management standpoint. Children are naturally drawn to computers and, as they experiment within this secure technology environment, they get the benefits of personalized self-directed learning," says Karl Thornton, president of AWE. "We are thrilled to reach this milestone of 100 million hours of learning. This shows our efforts at AWE are making a true impact."
AWE's workstations can track the amount of time spent on them as well as collect data by user, program application, progress and performance, session times, and more.
About AWE, Inc. (http://www.awelearning.com)
AWE's mission is to inspire every child to become a lifelong learner. AWE's engaging digital learning solutions are found in public libraries, schools, child care centers, and other institutions. They provide self-directed learning environments, feature content spanning all curricular areas, and can be personalized for every learner.