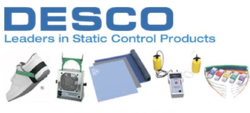 Bound Brook, NJ (PRWEB) February 22, 2013
Janel, Inc. is proud to announce an extension of its Focused Distributor relationship with Desco Industries which will provide more convenient access to Desco products for its customers.
Janel, Inc., established in 1963, has long been a focused distributor of electrostatic discharge (ESD) products and solutions from Desco Industries, a leading provider of static control technologies. Through this relationship, Janel provides Desco ESD products at prices which are more competitive than those of normal distributors. This relationship has made it possible for Janel to become a leader in providing Desco static-reducing bottles, bags, tape, and other ESD products to the online marketplace.
Now, Janel, Inc. proudly announces a new aspect to this proven strategic relationship. Janel has partnered with Desco Industries to stock its inventory online. This development will prove a boon to Janel's customers who purchase Desco products on a regular basis. Through this restructuring of the two companies' partnership, Janel will be able to offer its Desco products regardless of in-warehouse stock. If Janel does not have the Desco product which a customer orders in stock, the order will be shipped directly by Desco at no additional cost to the customer. This means that any Desco product which Janel, Inc. offers will be available to customers at all times.
This agreement applies to both Desco branded products and alternate brands which Desco controls and manufactures. This includes the popular line of durAstatic HDPE bottles from Menda. durAstatic bottles are produced in a controlled environment to create the ideal dissipative bottle without contaminative migratory additives. The bottles are characterized by a dish-style dispenser which allows for precision dispensation of liquids while allowing excess to seep back into the bottle. These bottles are marketed to both the technology manufacturing industry and the beauty industry, which utilizes them as containers for highly volatile beauty products such as acetone.
About the Company
Janel, Inc., was incorporated in 1963 and today operates out of Bound Brook, NJ. The company globally distributes over 140 manufacturer brands as an authorized distributor, including Desco, JBC Tools, Kester, Excelta, and more. Janel was founded to provide solutions to the production assembly and solder industry but has grown to provide products to any industry which requires precision tools to get the job done.
Desco Industries was first formed in the 1950's to produce and distribute a multipurpose product for electrical circuit testing and was incorporated in 1979. Located in Chino, CA, Desco now focuses on controlling electrostatic discharge in circuits and provides products under the umbrella of seven core brands.