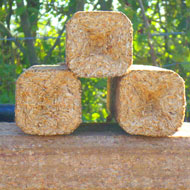 Currently just 1.5% of UK final energy consumption comes from renewables
Atherstone, Warwickshire (PRWEB) February 21, 2013
Midland Bio Energy has introduced a new product to their already established range of briquette heat logs.
"The new heat logs are available in a 5 unit pack weighing 10kgs per pack and boast an exceptional heat value of between 18.8 - 20mj/kg",' explains Managing Director, Andrew Brindley.
"They have a low moisture content of below 8%, are manufactured purely from clean sawmill residue with no additives and the low burn rate ensures that they will last longer than more conventional fuels."
Households and businesses who buy wood pellets displace oil and gas boilers, but enjoy a cost-effective major fuel that is becoming increasingly popular in an economic market obsessed with climate change and affected by some of the coldest weather the country has experienced for decades.
"Currently just 1.5% of UK final energy consumption comes from renewables,' explains Andrew Brindley. "However heating equals a massive 47%. The Renewable Energy Directive has set a target for an increase in renewables from to 12% by 2020 which will in turn reduce CO2 emissions 80% by the year 2050."
Bio-mass wood pellet fuel is becoming a major fuel for commercial and increasingly domestic use after the publication of The Renewable Energy directive by the European Commission in 2009. The directive stipulates that 15% of the Nation's electricity be produced from renewable sources by 2020 and was supported by a scheme launched in 2011 which offered a £950 Renewable Heat Premium to householders towards the cost of a bio-mass boiler.
"I think a popular misconception with wood-pellet fuel and especially in the case of boilers is that the units require a certain amount of upkeep and cleaning, not to mention fuel storage. In reality, the experience is a lot cleaner and lower maintenance than you'd imagine, but a lot more effective at heating. Wood pellet fuel boilers are only just taking off in the UK, but have been used on the continent for years," says Andrew Brindley.
"To buy wood pellets in the long run is a lot cheaper and cleaner than standard gas or oils fuel. We are also offering these new heat logs for the exceptionally good price of £250 for a pallet consisting of 100 x 10kg packs."
"We're aware of exactly how difficult the cold weather, snowstorms and excessive rainfall over the last few months has affected both our domestic and commercial customers," explains managing director, Andrew Brindley.
"With the inclusion of heat logs, wood pellet bedding, horse bedding and wood pellet fuel, we are increasing our personal delivery service to local customers, carrying increasing amounts for a door-to-door delivery service. Midland Bio Energy has kept stock levels at maximum capacity during peak season in order to secure supplies to customers during the coldest months of the year."
Formed in 2007 from the North Warwickshire base, the fuel suppliers initially intended to manufacture and supply the fuel products.
"We evolved very quickly after identifying a need in the market", says Andrew Brindley. "So we decided to concentrate on distribution and our online presence, making it easier for domestic and commercial customers to learn about and buy wood pellets on the internet."
Supplying fuel and wood pellet bedding products to the commercial sector and to the equine industry soon developed and Midland Bio Energy began to provide heat logs to domestic households to cope with demand.
"From the beginning, we have been supplying bulk commercial customers nationwide," explains Managing Director, Andrew Brindley. "But with the increasing popularity in cleaner living and bio fuel boilers and fires, it was only a matter of time before we made our products more accessible to domestic customers who perhaps wouldn't have the space or facilities to store large fuel orders. Our website allows customers to purchase fuel products and horse bedding pellets online quickly and easily plus we also deliver bulk orders directly to fuel stores."
"Our UK heat logs, briquettes and bagged pellets have a moisture content of less than 10% which means you can get a higher heat output,' explains Andrew Brindley. "We supply them in easy to store 10kg packs making them ideal for a domestic or commercial environment. We've always got experienced members of staff available to discuss product requirements should customers be new to using bio fuels."