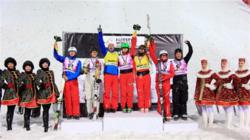 The events were a highly useful test and we will review them carefully to further enhance our planning as required to ensure we approach the next winter's Olympic season best prepared to deliver a great Games
(PRWEB) February 20, 2013
The FIS Snowboard and Freestyle Skiing World Cup stages hosted at the Sochi 2014 "Rosa Khutor" Extreme Park concluded on 19th February 2013.
Sochi 2014 welcomed 700 athletes from 45 countries, who competed in two Olympic disciplines. These world class level Test Events were the first international competitions at such a scale at the "Rosa Khutor" Extreme Park, which will host Olympic snowboard and freestyle skiing tournaments in 2014.
The organization and staging of the FIS Snowboard and Freestyle Skiing World Cup stages was managed by more than 60 Sochi 2014 Organizing Committee representatives, who tested all the features and services at the venue in the Olympic mode.
Despite the challenging weather conditions, competitions in seven sports of the Olympic program were staged: halfpipe, parallel giant slalom and snowboard cross during the FIS Snowboard World Cup stage; moguls, halfpipe, aerials and ski cross at the FIS Freestyle Skiing World Cup stage. The scale of these Test Events has formed one the largest snowboard and freestyle skiing competitions this winter season. The events formed part of the substantial program of international test events organized by the Sochi 2014 Organizing Committee to ensure full readiness for the Games and were staged in partnership with the International Ski Federation (FIS) and national sports federations.
Leading countries in these two Olympic disciplines – Austria, Canada, Switzerland and United States – confirmed their strength by winning the highest total number of prize places. Athletes from China were unequaled in aerial competitions and several other countries received awards in the other events.
Among the surprises was the victory in the women's snowboard cross competition by 17-year-old Italian Michela Moioli, for whom the Sochi event was only her third career appearance in the World Cup.
Test Events at the "Rosa Khutor" Extreme Park were held with the support of Sochi 2014 Partners – Coca-Cola, GE, Ingosstrakh and PwC.
Dmitry Chernyshenko, President and CEO of the Sochi 2014 Organizing Committee, said:
"The stages of the FIS Snowboard and Freestyle Skiing World Cup have become a real test for Sochi 2014. Each day the weather provided a different challenge for us to manage, through rain, irregular higher temperatures, fog and wet snow. Despite these challenges, we are pleased with how we staged the test event.
"We thank both the fantastic athletes who competed during our pre-Olympic week for their memorable and spectacular performances and the volunteers for their hard work which contributed significantly to making these tournaments such a success. The events were a highly useful test and we will review them carefully to further enhance our planning as required to ensure we approach the next winter's Olympic season best prepared to deliver a great Games."