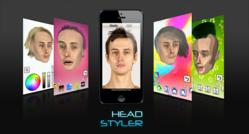 New York, NY (PRWEB) February 20, 2013
Indie developer Simon Mendoza today introduces the new iPhone application Head Styler designed to create a virtual person full of hairstyles, facial expressions, and special effects that can be applied to the 3D head model. The result may then be shared with other users.
The application is capable of generating a 3D model from a photo alone. The model created and the hairstyles available are both detailed and fully rendered in 3D. The user is capable of zooming in to see individual hairstrands as well as observe the model from any angle as opposed to currently available hairstyle applications which feature 2D cutouts. Hair color can also be changed by dragging a finger across the screen.
By tapping on one of the many face icons available, a model's facial expression quickly changes to display emotion. The special effects offered range from face paint, acne, wrinkles, freckles, makeup, as well as rendering effects which allow a person to appear cartoony or mannequin-like. Lastly, creative users may complement the visuals with the ability to change the background to not only pre-made artwork, but any photo in the device's Photo Album.
The user has the option of sharing the resulting image or the model itself. The image may be shared via email, Twitter, Facebook or Dropbox; the model via email or Dropbox. The app also showcases a clean and appropriate UI.
Device Requirements:

Compatible with iPhone and iPod touch
Requires iOS 6.0 or later
Optimized for iPhone 5
13.5 MB
Pricing and Availability:
Head Styler is $0.99 USD with In-App Purchases and available worldwide exclusively through the App Store.
More Information:
Link in iTunes
Youtube Video
Screenshots
Simon Mendoza
Owner
simon(at)wickedpirateapps(dot)com