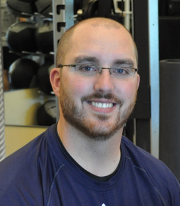 I am pleased that Robert is joining our team. His experience and expertise, educating, training and managing exercise professionals is sure to enhance the quality offering at CRI.
Medway, MA (PRWEB) February 22, 2013
Cybex International, Inc. announces Robert Linkul will be joining Cybex Research Institute (CRI) as a teaching fellow. As a teaching fellow with CRI, Robert Linkul will be involved in educating exercise professionals throughout the nation. In addition, Linkul will aid in the planning and coordinating of the Cybex Research Institute west coast based events, the first event being held in April.
Led by Executive Director Dr. Paul Juris, the Cybex Research Institute is focused on optimizing product designs for the best fitness results. The educational arm of the institute combines firsthand knowledge of the commercial, recreational, pro-athlete and non-profit fitness environments, uniquely positioning the institute to support and disseminate research-based knowledge and its practical application to a variety of exercise professionals and exercise enthusiasts.
"I am pleased that Robert is joining our team. His experience and expertise, educating, training and managing exercise professionals is sure to enhance the quality offering at CRI," said Dr. Juris.
Robert Linkul is the National Strength & Conditioning Associations (NSCA) 2012 Personal Trainer of the Year and is the NSCA's Southwest Regional Coordinator. Robert has his master's degree in personal training and is an NSCA-CPT and CSCS with distinction. Linkul is the "Career Development" instructor for the National Personal Training Institute (Sacramento) assisting students in creating their professional blueprint in which they will implement once they have officially become certified personal trainers (CPT).
Linkul leads more than 125 personal training sessions per week and dedicates over 100 hours per year to developing his team of CPTs. In addition to the honor of being named NSCA's 2012 PT of the Year, Linkul writes for a number of fitness publications including PFP Magazine, Healthy Living Magazine, On Fitness Magazine and the NSCA Performance Journal.
About Cybex
Cybex International, Inc. is a leading manufacturer of premium exercise equipment primarily for commercial use. The Cybex product line, including a full range of strength and cardio training machines, is designed using exercise science to reflect the natural movement of the human body. Led by the Cybex Research Institute, Cybex fitness equipment is engineered to produce optimal results for users from the first-time exerciser to the professional athlete. Cybex designs and builds its products in the USA for a wide range of facilities, from commercial health clubs to home gyms, in more than 85 countries worldwide. For more information on Cybex and its products, visit the Company's website at http://www.cybexintl.com.
This news release may contain forward-looking statements. There are a number of risks and uncertainties that could cause actual results to differ materially from those anticipated by the statements made above. These include, but are not limited to, the ability of the Company to comply with the terms of its credit facilities, competitive factors, technological and product developments, market demand, economic conditions, and the resolution of litigation involving the Company. Further information on these and other factors which could affect the Company's financial results can be found in the Company's previously filed Report on Form 10-K for the year ended December 31, 2011, its Reports on Form 10-Q, its Current Reports on Form 8-K, and its proxy statements dated April 12, 2012 and January 4, 2013.