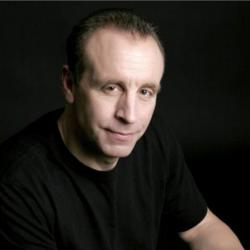 Timing, it turns out, was everything, says Dibitetto.
New York, NY (PRWEB) February 21, 2013
If you've ever attempted to shop after the weathermen have called for snow, then you know just how crazy people get. Empty shelves where bread and milk once were is what people face as those there before you hoard food and batten down for a blizzard. Comedian and eTalentShowcase.com member Vic Dibitetto's take on this bizarre behavior struck a cord and his 29-second YouTube video 'Bread + Milk' has been viewed more than 7 million times.
Surprised by his own success, the comedian shared his biggest go-viral tip with eTalentShowcase.com members: Don't delete it. "I've been making videos for three years. I have more than 2,000 of them," says Dibitetto. "And I have so many more that are funnier. I almost deleted this one."
Of course, there were other factors to his success. Timing, it turns out, was everything, says Dibitetto. The comedian made the video right before winter storm 'Nemo' slammed the northeast, dumping as much as 32 inches of snow. Still, Dibitetto says he was shocked by just how big the reaction was.
To the video's surprising success, Dibitetto says simply, "Hey, why ask why? I realized this video was going to be big when relatives and friends I haven't spoken to in years called me about it." 'Bread + Milk' is making Dibitetto a bit of money ("I monetized it on YouTube," he explains), but bigger than that is the publicity it has generated for the comedian. "I've been all over the news and radio—even a newspaper in England. The weather channel also asked for my permission to air it. It's definitely given me a lot of exposure."
To read Dibitetto's other advice for anyone else looking to go viral, visit eTalentShowcase.com to read the full article on his insight and secrets.
About eTalentShowcase.com
eTalentShowcase.com is a social media site that provides artists and entertainment industry professionals with powerful, intuitive tools to connect, promote and prosper online. The site offers job listings, free profiles, original content, contests and a base of active, engaged fans. eTalentShowcase, Where Talent Gets Discovered.