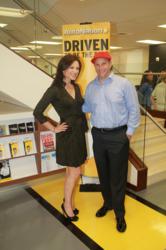 The Mocktail Party goes beyond gathering people together for a fun party that offers information about a cause, it's about actually personifying the cause – and that is powerful - Heather Geronemus, event chairwoman
Fort Lauderdale, Florida (PRWEB) February 22, 2013
What better way to accomplish a goal than to lead by example? On Wednesday, March 20, 2013 South Floridians will have the opportunity to do just that! MADD Broward will be hosting a "mocktail" party on the 15th floor of the AutoNation building (200 SW 1st Avenue, Ft. Lauderdale, 33301) in the name of accomplishing one powerful goal – the elimination of drunk driving.
"This is really a unique event in Ft. Lauderdale," states event chairwoman, Heather Geronemus, "it goes beyond gathering people together for a fun party that offers information about a cause, it's about actually personifying the cause – and that is powerful."
Geronemus, a Plantation resident and vibrant young professional who works for Ultimate Software, has helped MADD Broward raise more than $ 200,000 in the past four years following her dad's death. "My dad was struck and killed by a drunk driver in 2009 and I vowed to do everything in my power to ignite my community to help eliminate drunk driving."
The March 20, 2013 "mocktail" party sponsored by AutoNation and La Croix is in anticipation of the 2013 Walk Like MADD & MADD Dash presented by Ultimate Software and AutoNation, taking place Sunday, April 28, 2013 at Huizenga Park in Ft. Lauderdale.
"In addition to raising funds and awareness, the "mocktail" party is a fun opportunity for individuals and corporate teams to sign up for the April 28th walk or run," states Geronemus. The cost to attend is $25.00 and includes, delectable hors d'oeuvres and "mocktails, a free raffle ticket and premier goody bag. All proceeds benefit MADD Broward's community education, victim support services and youth programs.
To RSVP for the "mocktail" party visit http://tinyurl.com/a6xkzh4 or call (954) 662-7694.
To register for the 2013 Walk Like MADD & MADD Dash taking place on Sunday, April 28, 2013 at Huizenga Park in Ft. Lauderdale – visit http://www.walklikemadd.org/fortlauderdale. The cost is $20 for adults and $15 for kids - corporate, family and law enforcement team sign up is also available. For the most up to date event info visit facebook.com/madddashfortlaud.
ABOUT MADD
Founded by a mother whose daughter was killed by a drunk driver, Mothers Against Drunk Driving (MADD) is the nation's largest nonprofit working to protect families from drunk driving and underage drinking. MADD also supports drunk and drugged driving victims and survivors at no charge, serving one person every nine minutes through local MADD victim advocates and at 1-877-MADD-HELP. Learn more at http://www.madd.org or by calling 1-877-ASK-MADD.