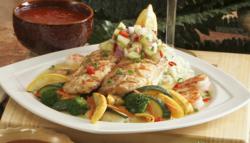 (PRWEB) February 21, 2013
LUBBOCK, Texas – Abuelo's Mexican Restaurants are bringing back one of its most popular seafood recipes, Pescado Mazatlán, for the Lenten season. Abuelo's, with 41 locations nationwide, will offer this item beginning February 18 through April 1.
Pescado Mazatlán – which means, fish of Mazatlán in Spanish, is another delicious creation by Abuelo's Executive Chef Luis Sanchez, and is a recipe that is served with shrimp and sea scallops in a light lemon sauce and topped with a cool cucumber salsa.
For this limited time offering, Pescado Mazatlán will feature wood grilled Barramundi. Barramundi, known as "The Better Fish," is a mild, delicate filet that has numerous health benefits behind its delicious exterior. Named one of the top five superfoods by renowned health expert Dr. Oz, Barramundi is high in protein, low in fat and has half the calories of salmon. It is all natural and offers many other health benefits.
Abuelo's new Pescado Mazatlán joins the restaurant's existing line up of fresh seafood selections that are available at both lunch and dinner. Other seafood entrées include:

Salmon Santa Cruz – Wood-grilled Norwegian salmon filet topped with a flavorful lemon wine sauce.
Tilapia Vera Cruz – Delicate filets of tilapia sautéed with fresh shrimp, scallops, tomatoes, roasted Poblano strips and olives.
Enchiladas de Cozumel – Three delicious crepes filled with fresh guacamole, covered in a rich white wine sauce with a medley of season shrimp, scallops, mushrooms, fresh spinach and roasted peppers.
Fideo con Camaron – Shrimp, lightly sautéed with a cream sauce and seasonal vegetable medley, tossed with Angel hair pasta and topped with diced tomatoes.
Alambre de Camaron – Wood-grilled, bacon-wrapped fresh shrimp stuffed with jalapeño and blended cheeses, and seasoned to perfection.
Pescado Guerrero – Tender, wood-grilled Barramundi filets with fresh shrimp, scallops, mushrooms, spinach, roasted peppers and sliced avocado in a delicious white wine sauce.
"Abuelo's strives to offer guests new, bold and creative flavors and Chef Luis is always looking to add new creations," said Robert Lin, president of Food Concepts International, Abuelo's parent company. "We are excited to bring back Pescado Mazatlán, once again, as it was very popular when we featured it in the past. The combination of the great flavors and incredible health benefits that Barramundi has to offer makes this new seafood dish an Abuelo's favorite."
About Abuelo's
Since its first opening in 1989, Abuelo's has consistently been on the leading edge of Mexican cuisine, combining menu creativity, outstanding food and beverage quality, colorful plate presentations and superior service in an impressive Mexican courtyard-themed atmosphere. Owned and operated by Food Concepts International of Lubbock, Texas, Abuelo's has received national accolades as the top-ranked Mexican food restaurant and as one of America's top overall restaurant chains in three consecutive biennial surveys by a leading national consumer rating magazine. The company currently has 41 restaurants located in 15 states throughout the United States. The company's newest fast casual concept, Abuelo's Taqueria, is now open in Lubbock. For more information, visit http://www.abuelos.com or Abuelo's Facebook page at http://www.facebook.com/abuelos.