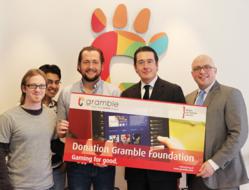 With our donation to the Gramble Foundation we seek to encourage other external partners to follow our initiative.
The Hague, the Netherlands (PRWEB) February 25, 2013
In the spirit of Valentine's Day this month, internationally focused Dutch corporate and tax law firm Buren van Velzen Guelen NV is "giving love" to social-entertainment network Gramble's charity foundation. Gaming company Gramble's CEO Adam Palmer and "Chief of Smiles" (internal charity ambassador) Queralt Escrich-Sesa were on hand to receive Buren's donation to the Gramble Foundation, delivered by partner Cees-Frans Greeven this past week.
"We have been working with Buren since the very beginning," explains Palmer. "They helped us register our company (and later, our group of companies), draft all necessary legal documentation, build a robust business model, and many other indispensable services to get Gramble going. We were initially drawn to this firm by its entrepreneurial profile and history of social responsibility, and we're excited to have them as contributors to the Gramble Foundation."
As a company, Gramble strongly believes in working only with third-party partners who share in their philanthropic vision. Buren's contribution is also backed up by Gramble's other external partners, all of whom donate a percentage of their monthly fees to the Gramble Foundation. "This is key to making our mission of helping improve one billion lives a reality," Palmer adds.
Buren will continue to provide all of Gramble's legal and tax-consultation services. The Gramble Foundation is the charity-funding arm of Gramble World BV. It is the division gathering and distributing Gramble's charitable donations, dependent upon user activity (and spending) on the site, the relative popularity of the network's various charities (as measured by the number of users who have starred each), and social responsibility agreements with third-party partners like Buren.
"Once we were introduced to Gramble, we were quickly convinced that their way of generating money for charity with their business concept of 'gaming for good' would be an effective tool in the endeavor to make the world a better place," says Greeven. "We are excited about the future of Gramble World BV, and feel fortunate to continue providing legal and tax support to their activities. With our donation to the Gramble Foundation we seek to encourage other external partners to follow our initiative."
About Buren van Velzen Guelen
With roots dating back to 1898, corporate law firm Buren works with internationally focused clients out of its offices in Amsterdam and The Hague in the Netherlands. Its success is based on a focus on customer service as well as a global network, aided by regional desks for clients from China, Japan, Russia/CIS, and Latin America. Their experience lies in the fields of cross-border transactions and litigation matters as well as corporate, commercial, tax, labor, intellectual property, and regulatory counsel to clients across all industries.
Buren has a long history of social responsibility and supporting local communities, believing it is their obligation to promote the well-being of global and local communities (both individually and collectively) through pro-bono work, community service, charitable giving, environmental stewardship, and promotion of diversity.
About Gramble World
Gramble, part of Gramble World BV (http://www.grambleworld.com), is the pioneer of an innovative social-gaming experience, which combines cutting-edge social and technical features with good giving. A portion of all revenues generated on Gramble go to charities. Players can even pick which charity partners get the money their playing creates. Gramble offers players a deeper level of interaction with both charities and developer partners, who can build their fanbase on the network through their own dedicated profiles.
The beta version Gramble's mobile and tablet apps are currently available via Gramble.com, with web and downloadable iOS and Andoird apps to follow. Developers who want to get their hands on the company's super-simple SDKs and learn more about retaining full rights to their own IP through hosting with Gramble are invited to learn more here.