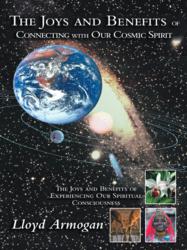 Minneapolis, Minn. (PRWEB) February 22, 2013
During the hustle and bustle of everyday life, it is hard not to fall into patterns of looking for superficial means of happiness and losing sight of what is really important in one's life. Lloyd Armogan seeks to break this ego-driven cycle in his new book, The Joys and Benefits of Connecting With Our Cosmic Spirit, outlining simple techniques to achieving spiritual enlightenment.
"We need to understand there is a Cosmic Force, our Cosmic Spirit, within each and every one of us," said Armogan, "Once a person learns how to find and connect with their Cosmic Spirit they will unlock the secrets of transforming their lives into lives of joy, tranquility and finding meaning and purpose."
Traditional religious approaches fail to explain fully how to experience and communicate with God and leave many people full of unanswered questions and uncertainty, says Armogan. He seeks to fill the void left by these unanswered spiritual questions for people who are seeking to find purpose and meaning in their lives.
"This small book describes a simple process that everyone can use to find and experience the presence of our Cosmic Spirit," Armogan said, "By embarking on this spiritual journey, individuals will be able lead happier lives, which will in turn improve the lives of all those around them."
Armogan outlines the importance of True Meditation, a technique used to connect and communicate with the inner Cosmic Spirit. This connection is personal, must be cultivated by individuals themselves through their own spiritual journey and can be done in their own homes.
Geared toward individuals who are looking to transform their lives from empty, stressful and unhappy existences to lives of purpose, joy and fulfillment, The Joys and Benefits of Connecting With Our Cosmic Spirit offers readers advice on how to achieve true happiness through the connection with their inner Cosmic Spirit in order to enjoy their lives and improve the lives of those they meet.
The Joys and Benefits of Connecting with Our Cosmic Spirit
By Lloyd Armogan
Hardcover, $23.99
Paperback, $14.95
Kindle, $3.00
ISBN: 978-1-4772-8431-5/8432-2/8433-9
Available at http://www.amazon.com.
About the author
Lloyd Armogan is a retired engineer that has spent much time devoted to connecting with his inner Cosmic Spirit and has been able to improve his life. He now wishes to share his spiritual journey with all those looking for a new way to get in touch with their inner spirit. He resides in Minnesota.
# # #