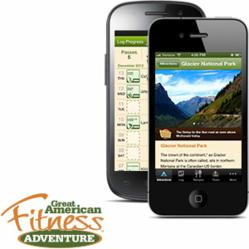 The program has been extremely successful with a desktop tool. Now participants can experience that same sense of adventure and positive reinforcement for an active lifestyle in a mobile application."
Midland, MI (PRWEB) February 23, 2013
The Health Enhancement Systems release of Great American Fitness Adventure mobile apps is the first in an upcoming series designed to complement their online worksite wellness challenges. The new apps bring convenience for users so they can log fitness activity and view their progress from anywhere.
"We thought Great American Fitness Adventure was the perfect campaign to start with," comments Dean Witherspoon, President and founder of Health Enhancement Systems. "The program has been extremely successful with a desktop tool. Now participants can experience that same sense of adventure and positive reinforcement for an active lifestyle in a mobile application."
Great American Fitness Adventure takes participants on an inspiring journey to better health as they visit 100 national parks, forests, monuments, and other natural wonders in 100 days. From the rugged White Mountains of New Hampshire to the lush rainforest of Hawaii's Haleakala National Park, they discover America's most treasured outdoor sites — while building a fitness habit to last a lifetime.
The emphasis on outdoor activity is designed to help worksite wellness participants experience not just the physical benefits of being active, but the mental and emotional benefits as well. "Being active outside may be the single most important health habit people can develop," explains Witherspoon. "The data is very clear that people who exercise outdoors are more likely to maintain their active lifestyle than those who exercise only indoors." The Health Enhancement Systems free white paper: A Healthy Dose of Nature Is Good for Business highlights 17 studies extolling the physical and psychological benefits of outdoor activity, including:

Improved self-esteem and mood
Enhanced positive engagement, exercise enjoyment, and revitalization
Higher frequency and intention to continue exercising.
Typical worksite physical activity programs encourage employees to exercise regularly and reduce sedentary time. Adding the focus on outdoor or green exercise injects a positive element of fun and excitement, while pointing workers toward activities with double rewards: exercise plus exposure to nature.
Studies show that reinforcement for green exercise is built in — because most people truly enjoy spending time in natural settings, they're more likely to stick with a fitness plan that includes outside activities.
Health Enhancement Systems creates employee wellness programs for organizations in North America and throughout the world. More than 20 effective, engaging wellness campaigns have been adopted by over a thousand organizations — serving hundreds of thousands of participants.
For more information, visit HealthEnhancementSystems.com or call 800.326.2317.